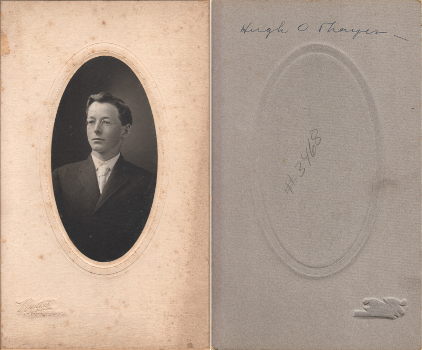 ---
STATUS: ENTIRE BOX OF PHOTOGRAPHS REUNITED WITH FAMILY
---
---
PHOTOGRAPH INFORMATION
NAME(S): Hugh O. Thayer
PHOTOGRAPH: # 3468
OTHER INFO: None
PHOTOGRAPHER: Wyatt, Battleboro, Vermont
CARD SIZE: 13.7 cm x 22.6 cm
WHERE PURCHASED: Marion, Illinois
WHEN PURCHASED: June 3, 2016
---
RESEARCHED INFORMATION

Probably: Hugh Olin Thayer
Born: April 15, 1891, West Brattleboro, Windham County, Vermont
Died: July 1970, Swarthmore, Delaware County, Pennsylvania
Father: Harvey Dwight Thayer
Mother: Alice Betsy Betterley
Married: Elizabet
Children: Robert, Scott, David, Paul, Margaret, & Marylane
---
NOTES
Although this photograph is labeled as "Hugh O. Thayer", note that it is the same photograph as #3464 which is labeled as "Lynn W. Thayer".
I have noted a few high school photographs of Lynn Thayer but have not been able to find any of Hugh Thayer. Looking at the photographs

I believe that both this photograph and #3464 are of Lynn W. Thayer and that this photograph is mislabeled. But since they are brothers and

possible have similar features it is possible I could be wrong. If possible comparison to existing photographs should be made for

conformation of identity. I have researched the information for Hugh O.Thayer and included it on this page.


This photograph is included in a box of hundreds of paper photographs and old cabinet card photographs, many named, some with
just first names, and many many unnamed. Many of the unnamed photographs are of the same people that are named in other

photographs and many are not. There are just too many of the unnamed photographs for me to scan due to the time it would take.

I bought the box of photographs and was told they all were from the same estate sale and thus all belonged to the same family.

Many of the unlabeled photographs are identifiable from the ones which are labeled. They seem to be divided into two groups, the

Thayer's family and related photo's from Vermont and the Sawyer/Funkhouser families and related photo's from Kansas with a few

photographs not related which were probably friends.
Click HERE for photograph of his mother Alice and brother Lynn
Click HERE for photograph of his brother Lynn (Duplicate of this photograph)
Click HERE for a photograph of his brother Guy
Click HERE for a photograph of his sister May
Click HERE for a photograph of his brother Louis
Click HERE for a photograph of his brother Ralph
---
SOURCES
1900 Census Brattleboro, Windham County, Vermont
1910 Census Brattleboro, Windham County, Vermont
1930 Census Buffalo, Erie County, New York
1940 Census Swarthmore, Delaware County, Pennsylvania
Vermont, Vital Records (Birth)
World War I Draft Registration Card
World War II Draft Registration Card
Social Security Death Index
FindAGrave.com
Wilmot Family Tree on Ancestry.com