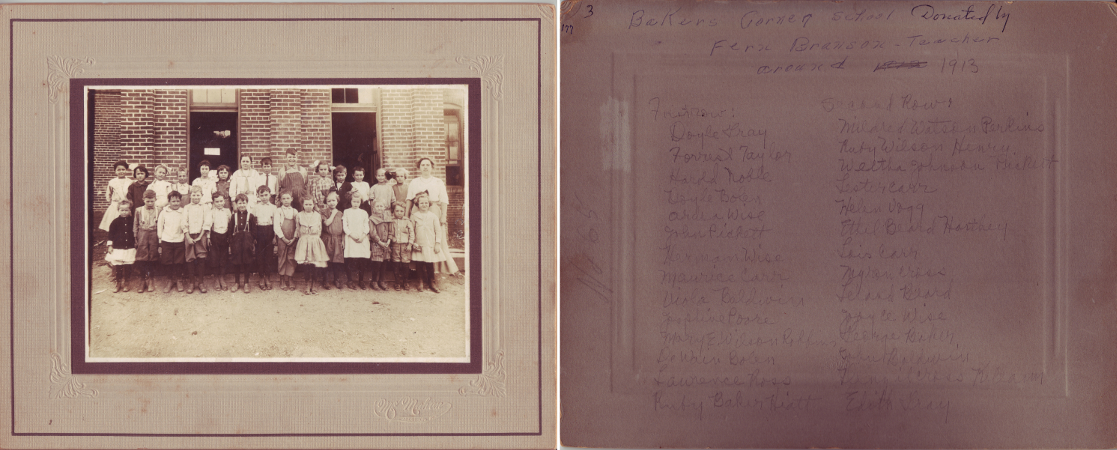 ---
STATUS: REUNITED WITH FAMILY
---
---
PHOTOGRAPH INFORMATION
NAME(S):

Fern Branson - Teacher









FIRST ROW -

Doyle Gray

Forrest Taylor
Harold Noble
Doyle Bolen
Ardra Wise




John Pickett
Herman Wise

Maurice Carr

Viola Baldwin
Josephine Poore


Mary E. Wilson Robbins
DeWain Bolen
Lawrence Ross
Ruby Baker Hiatt



SECOND

ROW –

Mildred Watson Perkins
Ruby Wilson Henry
Weltha Johnson Pickett
Lester Carr
Helen Vogg


Ethel Beard Hartley
Lois Carr

Myron Cross
Leland Beard
Joyce Wise



George Baker

John Baldwin
Dingil Cross Killaim
Edith Gray


PHOTOGRAPH:
# 1220
OTHER INFO: Bakers Corner School, Around 1913

PHOTOGRAPHER: Unknown

CARD SIZE:25.25 cm x 20.25 cm

WHERE PURCHASED: Marshall, Illinois

WHEN PURCHASED:
September 9, 2007
---
RESEARCHED INFORMATION

Identified: Harold Nobel (Harrell Nobel)

Email from family member:

I was very excited to find the photographs of the Bakers Corner School with the names of the individuals on the back. I have a copy of the
earlier one from my Dad's photographs. He is the Harold Noble listed (Should be Harrell Noble). His mother was Alta Marie Wise Noble
and he was 6 years old at the time. His cousins Joyce, Herm, and Ard Wise are also in the photograph. They were my great Uncle Frank's
children. Pickett belongs to the family that made sorghum at Pickett's Sorghum Mill at Bakers Corner. My dad wrote a story about the history of
the mill and I have photographs that go along with the story. The Noble side of the family had Baker connections and Wise side had Perkins connections.
Possibly: Doyal M. Bolen
Born: Abt 1904
Died:
Mother:
Father:
Sibling: Dewain Bolen - Born about 1905
Married:
Children:

Identified: Herman Wise

Born: Abt 1906, Indiana
Died:
Father: Frank H. Wise
Mother: Louella
Siblings: Ardra Wise - Born about 1908, Indiana
Joyce M. Wise - Born about 1905, Indiana
Married:
Children:

Possibly: Lois Carr

Born: Abt 1902, Indiana
Died:
Father: William E. Carr
Mother: Beatrice
Siblings: Lester Carr - Born about 1905, Indiana
Morris Carr - Born about 1907, Indiana
Married:
Children:

Possibly: Helen Vogg

Born: Abt 1905, Indiana
Died:
Father: Joseph K. Vogg
Mother: Emma
Married:
Children:

Possibly: Leland E. Beard

Born: Abt 1904, Indiana
Died:
Father: Isaac W. Beard
Mother: Armillia
Married:
Children:

Possibly: Edith Gray

Born: Abt 1905, Indiana
Died:
Father: William Gray
Mother: May
Sibling: Doyle Gray - Born: About 1909, Indiana
Married:
Children:
---
NOTES
---
SOURCES
1910 Census Adams Township, Hamilton County, Indiana (For Lois Carr &Helen Vogg)
1920 Census Adams Township, Hamilton County, Indiana (For Leland E.Beard)
1920 Census Jackson Township, Hamilton County, Indiana (For Herman WIse)
1930 Census Frankfort City, Clinton County, Indiana (For Doyal M. Bolen)
1920 Census Castleton, Lawrence Twp., Marion County, Indiana (For Edith Gray)
Family Member