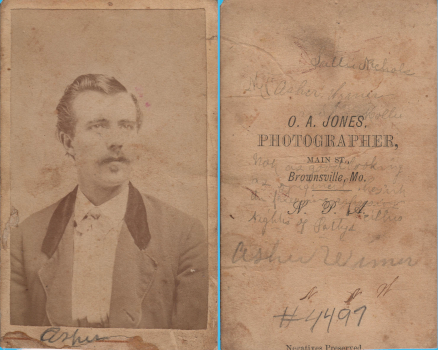 ---
STATUS: AVAILABLE - $10.00 + SHIPPING
---
---
PHOTOGRAPH INFORMATION
NAME(S): Asher Wimer
PHOTOGRAPH: # 4497
OTHER INFO: Sallie Nichols, Mollie
Not as good looking as original ???? an ??? ???? ???? nights of party
PHOTOGRAPHER: O. A. Jones, Brownsville, Missouri
CARD SIZE:
WHERE PURCHASED: Marion, Illinois
WHEN PURCHESED: September 18, 2018
---
RESEARCHED INFORMATION

Probably: Asher Franklin Wimer
Born: October 5, 1853, Virginia
Died: April 4, 1923, La Monte, Pettis County, Missouri
Father: Amos Wimer
Mother: Phoeba (See note below)
Married: Mary Virginia "Mollie" Craghead, December 23, 1875, Pettis County, Missouri
Children: Pauline Estelle, Percy Thomas, Edith L., Kenneth Robert, Hosea Amos, Shirley Karl,
Dimple Virginia, & Helen
---
NOTES
Both of Asher's parents were from Highland County, Virginia which is on the border with
West Virginia. His father "Amos Wimer" married in March 18, 1841 in Pendleton County,
West Virginia to a Elizabeth Simmons. I find no other record of Elizabeth Simmons or of
any other marriage by Amos Wimer. It is possible that Asher's mother's full name may
have been Phoeba Elizabeth Simmons.
Brownsville, Missouri will is no longer existing due to being completely destroyed
by a tornado or as stated by an April 19, 1882 Saint Louis Globe-Democrat newspaper
article, a "cyclone / hurricane".
---
SOURCES



1870 Census Ash Fork, Pettis County, Missouri
1880 Census La Monte, Pettis County, Missouri
1900 Census La Monte, Pettis County, Missouri
1910 Census La Monte, Pettis County, Missouri
1920 Census La Monte, Pettis County, MissouriMissouri, Compiled Marriages
Missouri, Marriage Record
Missouri, Death Certificate
FindAGrave.com