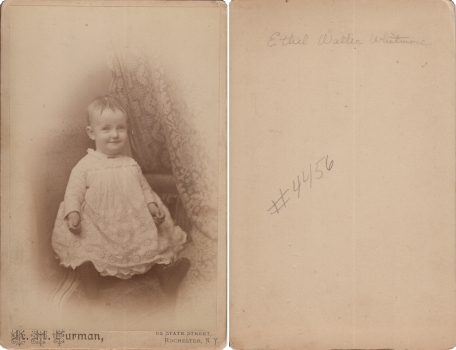 ---
STATUS: AVAILABLE - $10.00 + SHIPPING
---
---
PHOTOGRAPH INFORMATION
NAME(S): Ethel Walter Whitmore
PHOTOGRAPH: # 4456
OTHER INFO: None
PHOTOGRAPHER: R. H. Purman, Rurman, Rochester, New York
CARD SIZE: 10.7 cm x 16.3 cm
WHERE PURCHASED: Marion, Illinois
WHEN PURCHESED: September 18, 2018
---
RESEARCHED INFORMATION

Possibly: Ethel
Born: Abt 1893, United States
Died:
Father:
Mother:
Married: _____ Whitmore
Children:
---
NOTES
Only reference to a Ethel Whitmore is the one listed and she is living in the household
of Fred Whitmore and listed as his "married" sister-in-law. I find no record of Fred having
a brother. This is assuming "Whitmore" was her marrioed name. I find no record of an
Ethel with the surname of Walter.
---
SOURCES



1915 State Census Rochester Ward 19, Monroe County, Nerw York