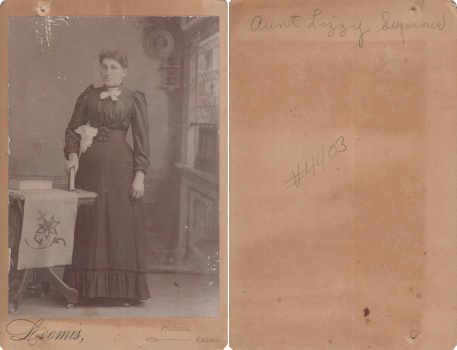 ---
STATUS: AVAILABLE - $10.00 + SHIPPING
---
---
PHOTOGRAPH INFORMATION
NAME(S): Lizzie Seymour
PHOTOGRAPH: # 4403
OTHER INFO: Aunt
PHOTOGRAPHER: Loomis, Fredonia, Kansas
CARD SIZE: 10.8 cm x 16.6 cm
WHERE PURCHASED: Marion, Illinois
WHEN PURCHESED: September 18. 2018
---
RESEARCHED INFORMATION

Probably: Elizabeth Galland
Born:
May 1842/4, New York
Died:
July 18, 1914
Father:
William Galland
Mother:
Mary Smithson
Married:
Horace Homer Seymour, July 29, 1860, Fond Du Lac Co., Wisconsin
Children:
Wellington J., Horace W., & Ernest
---
NOTE: In 1905 census Elizabeth is living alone with her son Ernest.
In 1910 her husbane Horace remaried in Illinois and Elizabeth
did not die until 1914. I assume that they were probably
divorced between 1900 and 1905.
---
SOURCES
1850 Census Lamartine, Fond du Lac County, Wisconsin
1860 Census Lamartine, Fond du Lac County, Wisconsin
1880 Census Richland County, Dakota Territory
1900 Census Coffeyville, Montgomery County, Kansas
1904 Coffeyville, Kansas, City Directory
1905 State Census Coffeyville, Montgomery County, Kansas
Wisconsin, Marriage Index
Minnesota, Births and Christenings Index
(For son Ernest)
Kansas, Wills and Probate Record
(Last Will & Testament)
England, Select Marriages
(For parents)
FindGrave.com