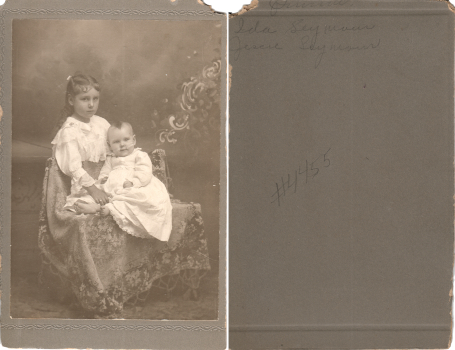 ---
STATUS: AVAILABLE - $10.00 + SHIPPING
---
---
PHOTOGRAPH INFORMATION
NAME(S): Ida & Jessie Seymour
PHOTOGRAPH: # 4455
OTHER INFO: None
PHOTOGRAPHER: Unknown
CARD SIZE: 10.7 cm x 16.5 cm
WHERE PURCHASED: Marion, Illinois
WHEN PURCHESED: September 18, 2018
---
RESEARCHED INFORMATION

Possibly: Ida May Seymour
Born: February 12, 1895, Rantoul, Kansas
Died: April 10, 1985, Colorado Springs, El Paso County, Colorado
Father: Jessie B. Seymour
Mother: Caroline Minnie Burrett
Married: Seth Noah Freed, February 12, 1916, Las Animas, Bent County, Colorado
Children: Marie La Vere, Carroll, Gelah Eleanor, Theada Olivette, & Seth Victor

Possibly: Jessie V. Seymore
Born:
June 11, 1890
Died:
January 20, 1986
Father:
Jessie B. Seymour
Mother:
Caroline Minnie Burrett
Married:
David Francis Birney
Children:
---
NOTES
Listed as "Possible" due to not knowing where photograph was taken, but these
are the only Ida & Kessie Seymour siblings I could find.
Jessie is listed as 10 years old in 1900 census but grave stone says born in 1900.
I think Jessie may have been one of those who possibly lied about her age.
Click
HERE
for what I consider is another photograph of this "Ida Seymour"
---
SOURCES



1900 Census Verdigris Township[, Wilson County, Kansas
1905 State Census Fall River, Greenwood County, Kansas
1910 Census Otter Creek, Greenwood County, Kansas
1915 State Census Foote, Gray County, Kansas
1920 Census Precinct 5, Otero County, Colorado
1930 Census Las Animas, Bent County, Colorado (Ida)
1930 Census Haskell Township, Haskell County, Kansas (Jessie)
1934 Colorado Springs, Colorado, City Directory (Ida)
1935 Colorado Springs, Colorado, City Directory (Ida)
1940 Census Colorado Springs, El Paso County, Colorado (Ida)
1940 Census Haskell Township, Haskell County, Kansas (Jessie)
1942 Colorado Springs, Colorado, City Directory (Ida)
1945 Colorado Springs, Colorado, City Directory (Ida)
1952 Colorado Springs, Colorado, City Directory (Ida)
1953 Kansas, City and County Census Records for Sublette, Kansas (Jessie)
1954 Kansas, City and County Census Records for Sublette, Kansas (Jessie)
1956 Kansas, City and County Census Records for Sublette, Kansas (Jessie)
1957 Kansas, City and County Census Records for Sublette, Kansas (Jessie)
1957 Colorado Springs, Colorado, City Directory (Ida)
1958 Colorado Springs, Colorado, City Directory (Ida)
1958 Kansas, City and County Census Records for Sublette, Kansas (Jessie)
1959 Kansas, City and County Census Records for Sublette, Kansas (Jessie)
1959 Colorado Springs, Colorado, City Directory (Ida)
1960 Colorado Springs, Colorado, City Directory (Ida)
1961 Kansas, City and County Census Records for Sublette, Kansas (Jessie)
Kansas, City and County Census Records (Jessie)
Colorado, County Marriage Records and State Index (Ida)
Social Security Death Index
FindAGrave.com (Ida)
FindAGrave.com (Jessie)