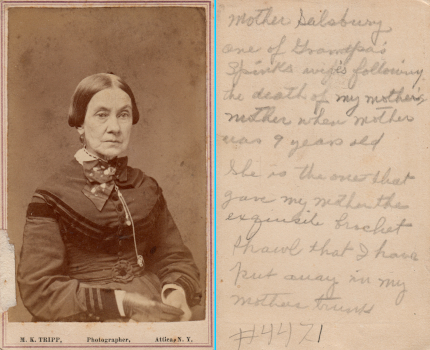 ---
STATUS: AVAILABLE - $10.00 + SHIPPING
---
---
PHOTOGRAPH INFORMATION
NAME(S): Mother Salsbury
PHOTOGRAPH: # 4471
OTHER INFO: See unter "NOTES" below
PHOTOGRAPHER: M. K. Tripp, Attica, New York
CARD SIZE: 6.2 cm x 10.0 cm
WHERE PURCHASED: Marion, Illinois
WHEN PURCHESED: September 18, 2018
---
RESEARCHED INFORMATION

Possibly: Sarah Candice Salsbury (See notes below)
Born: March 29, 1813, Rhode Island
Died: 1859
Father:
Mother:
Married:
Children:
---
NOTES
Written on back of photograph is the following
:
"Mother Salsbury one of Grandpa's Spink's wives following the death of my
mother's mother when mother was 9 years old. She is the one that gave
my mother the exquisite brachet shawl that I have put away in my
mother's trunk."
I have another photograph purchased along with this one ,
HERE
, of a
Elon P. Spink. The photograph here of Mother Salsbury mentions
Grandpa Spink. The writting on both appear to be of the same person.
The Elon P. Spink photograph states "my mother's only brother" which
would make her mother one of the daughters of "David A. & Mary S. (Jones)
Spink. This then makes David A. Spink the Grandpa Spink mentionen in
this photograph. David A. Spink married a Mary S. Jones first and after
her death married a Sarah Candice (last name unknown). Then accordingly
this photograph would be of her. Sarah Candice was born in Rhode Island
but I can find no Sarah or Candice Salsbury there. The information for
David A. Spink is from McCray-Spink-Leiting-Morehouse-Fields-Skinner-Emberton
family tree on Ancesty.com.
---
SOURCES