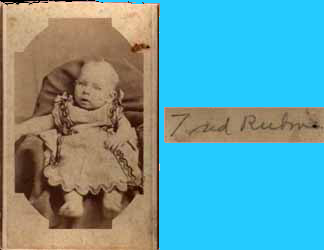 ---
STATUS: REUNITED WITH FAMILY

---
---
PHOTOGRAPH INFORMATION
NAME(s): Fred Rubin
PHOTOGRAPH: # 547
OTHER INFO: None
PHOTOGRAPHER: W. A. Bishop, Indianapolis, Indiana
CARD SIZE:
WHERE PURCHASED: Indianapolis, Indiana
WHEN PURCHASED: Not Recorded
---
RESEARCHED INFORMATION

Identified: Fred Rubin

Born: 1878
Died: 1962, Indianapolis, Indiana
Father: Jacob Rubin
Mother: Elizabeth Raible
Married: Clara Bates
Children: Harry and Edna
---
NOTES
Fred was the son of Jacob and Elizabeth (Raible) Rubin. Jacob was an immigrant from France. Fred was born in 1878 and died
at the age of 84in 1962 in Indianapolis and is buried at Washington Park East Cemetery. He had a brother Harry E Rubin and a sister
Stella Whittenburg. He lived his adult life until his death at 5825 Oak Ave in Irvington in Indianapolis. He was a cabinetmaker by
trade and owned the Kiln Supply and Mfg. Company with his brother and father. The workshop was located in Fred's backyard.
Fred and his parents lived adjacent to each other in Irvington. They owned a large property and through the years, sold it off for home
development. Fred served in the 158th Regiment IndianaVolunteers in the Spanish American War. Fred married Clara (Bates) Rubin.
They had 2 children, Harry Rubin and Edna Whetsell. Fred was a member of the Masons.
---
SOURCES