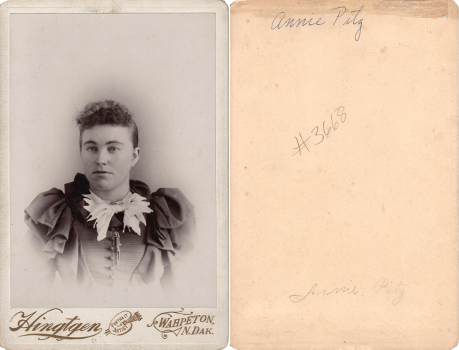 ---
STATUS: AVAILABLE - $10.00 + SHIPPING

---
---
PHOTOGRAPH INFORMATION
NAME(S): Annie Pitz
PHOTOGRAPH: # 3668
OTHER INFO: None
PHOTOGRAPHER: Hingtgen, Wahpeton, North Dakota
CARD SIZE: 10.9 cm x 16.6 cm
WHERE PURCHASED: Eau Claire, Wisconsin
WHEN PURCHASED: August 31, 2016
---
RESEARCHED INFORMATION

Probably: Anna
Born:
Died:
Father:
Mother:
Married: Leo Pitz
Children: Madelia
---
NOTES
This is the only reference to an Annie Pitz I can find for North Dakota. The town it was taken in "Wahpeton" is on the border with Minnesota and there are several
Anna Pitz found, but I can find no Anna connected to a Leo Pitz or with a child "Madelia" anywhere. The town of the census record "Wyndmere" is only about
30 miles from the town where the photograph was taken.
---
SOURCES
1915 Census Wyndmere, Richland County, North Dakota