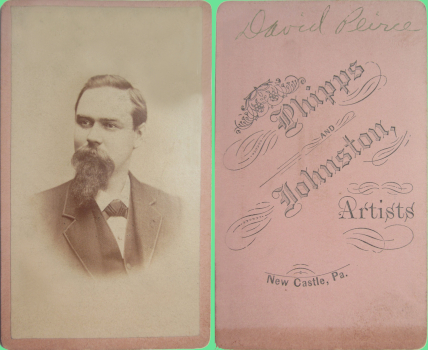 Click on photograph for larger downloadable scan (
Donation Info
)
---
STATUS: SCAN ONLY AVAILABLE
---
---
PHOTOGRAPH INFORMATION
NAME(S): David Pierce
PHOTOGRAPH: # 4747
OTHER INFO: None
PHOTOGRAPHER: Phipps & Johnston, New Castle, Pennsylvania
SCAN SIZE: 886 pixels x 1455 Pixels (one side of above scan)
WHERE OBTAINED: Donated
WHEN OBTAINED: 2016
---
RESEARCHED INFORMATION

Probably: David Pierce
Born: September 28, 1826, Pennsylvania
Died: October 4, 1905, Butler County, Pennsylvania
Father:
Mother:
Married 1st: Sarah Belle Ray (Absent from 1860 census)
Children: Mary, Levi Little, John, & Alice
Married 2nd: Hannah Jane Beighley (Abt 1865)
Children: Effie E., Verde Laura, William V., Franklin David, Harvy E., Charles O., & John Alexander

---
NOTES
I have no absolute proof that the David Pierce who was married to Sarah Belle Ray is the same as the one married to
Hanna Jane Beighley (two of her children list her maiden name as either Myers or Williams, though I am 90% sure it was Beighley).
The David married to Sarah disapears from Lawrence County after 1860 and it appears his wife Sarah may have died before
the 1860 census as she is not in it, and the David married to Hannah Jane does not appear in the Butler County census prior
to 1870 and both Davids are about the same age. David and Hannah's first child was born abt 1866 so it appear they were probably
married about 1865. All of David's children from first marriage are of marriage age in 1870 except Alice and I can find no record of
her after 1860 so I assume she may have died. His son Levi moved to Indiana and died there. Have been unable to trace Mary or
John in census records.
---
SOURCES
1850 Census Neshannock Township, Lawrence County, Pennsylvania
1860 Census Hickory Township, Lawrence County, Pennsylvania
(Surname "Pearce")
1870 Census Butler Township, Butler County, Pennsylvania
1880 Census Butler Township, Butler County, Pennsylvania
1900 Census Butler Township, Butler County, Pennsylvania
Indiana, Death Certificate
(Son Levi's)
Butler County, Pennsylvania, Obituary Index
FindAGrave.com