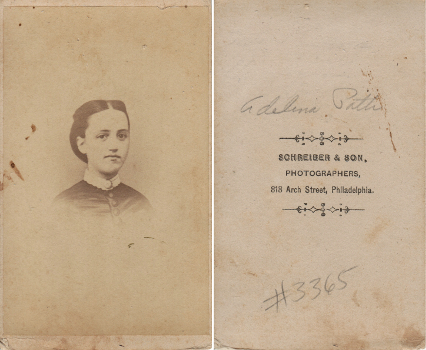 ---
STATUS: AVAILABLE - $50.00 + SHIPPING

---
---
PHOTOGRAPH INFORMATION
NAME(s): Adelina Patti
PHOTOGRAPH: # 3365
OTHER INFO: None
PHOTOGRAPHER: Schreiber & Son
CARD SIZE: 6.1 cm x 10.2 cm
WHERE PURCHASED: Princeton, Indiana
WHEN PURCHASED: January 19, 2016
---
RESEARCHED INFORMATION

Probably: Adelina Juana Maria Patti
Born: February 10, 1843, Madrid, Spain
Died: September 27, 1919, Craig-y-Nos Castle, Brecknockshire, Wales
Father:

Salvatore Patti



Mother:

Caterina Barilli



Married:
Children:

---
NOTES
Adelina Patti was an Italian-French 19th-century opera singer, earning huge fees at the height of her career in the music capitals of Europe and America.
She first sang in public as a child in 1851, and gave her last performance before an audience in 1914. Patti remains one of the most famous sopranos in history,
owing to the purity and beauty of her lyrical voice and the unmatched quality of her bel canto technique. She was born Adelina Juana Maria Patti, in Madrid, the last
child of tenor Salvatore Patti (1800–1869) and soprano Caterina Barilli (died1870). Her Italian parents were working in Madrid, Spain, at the time of her birth.
Because her father came from Sicily, Patti was born a subject of the King of the Two Sicilies.
---
SOURCES
www. britannica.com