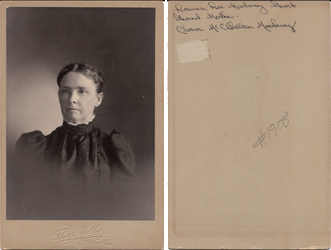 ---
STATUS: AVAILABLE - $10.00 + SHIPPING

---
---
PHOTOGRAPH INFORMATION
NAME(S): Clara McClallan Mooberry
PHOTOGRAPH: # 1908
OTHER INFO: Grand Mother, Lauren Lee Mooberry Guat
PHOTOGRAPHER: Thos. Mills, Peoria, Illinois
CARD SIZE:10.75 cm x 16.5 cm
WHERE PURCHASED: Waco, Texas
WHEN PURCHASED: June 3, 2011
---
RESEARCHED INFORMATION

Probably: Clara McClallen
Born: May 4 1847, Peoria, Peoria County, Illinois
Died: November 26, 1927, Peoria, Peoria County, Illinois
Father: Silas McClallan
Mother: Abigail Thayer Parkhurst
Married: Samuel Ramsey Mooberry
Children: Lydia R., Elijah Marion, Lutia A., George Fields, Alfred Samuel, & Ada Pearl
---
NOTES
There are two name on this photograph as listed above. I believe this isprobably more likely to be Clara McClallan.
The only Lauren Mooberry I can find is an airline stewardess in 1970 and would be way too young for this photograph.
Possibly is who owned the photograph. Clara McClellan Mooberry would have been the right age for the photograph.
I also have compared this photograph to one of her online and am pretty sure they are the same person.
Click HERE for a photograph of her grandson Loren Parker Mooberry
---
SOURCES
1850 Census Peoria County, Illinois
1870 Census Groveland, Tazewell County, Illinois
1880 Census Groveland, Tazewell County, Illinois
1900 Census Groveland, Tazewell County, Illinois
1910 Census Groveland, Tazewell County, Illinois
1920 Census Morton, Tazewell County, Illinois
Illinois, Marriage Index
Illinois, Deaths and Stillbirths Index
FindAGrave.com
Archibald-McGlynn-Champ-Blanpied- Family Tree on Ancestry.com