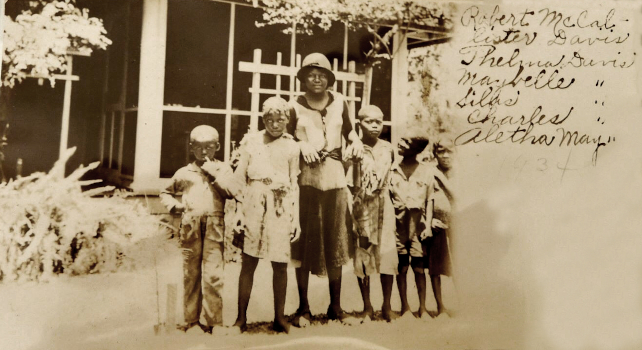 Click on photograph for larger downloadable scan (Donation Info)
---
STATUS: SCAN ONLY AVAILABLE

---
---
PHOTOGRAPH INFORMATION
NAME(S): Robert McCal; Cister, Thelma, Maybelle, Silus, Charles, & Aletha May Davis
PHOTOGRAPH:
OTHER INFO: None
PHOTOGRAPHER: Unknown
CARD SIZE: 1320 pixels x 720 pixels
WHERE OBTAINED: Donated
WHEN OBTAINED: 2014
---
RESEARCHED INFORMATION

Probably: Robert McCal
Born: Abt 1899, Mississippi
Died:
Father: Listed as step-son to Benjamin McCal
Mother: Mary
Married:
Children:

---
NOTES
There are 7 names on the photograph but only 6 persons in the photograph. Not sure who is missing or the order.
I am going by the assumption of listed left to right with Robert McCal on the left end.

This is the only listing for a Robert McCal I can find who is listed in the census as "Black".

I have not been able to track down the Davis family.

---
SOURCES



1910 Census Beat 5, Jasper County, Mississippi