#4372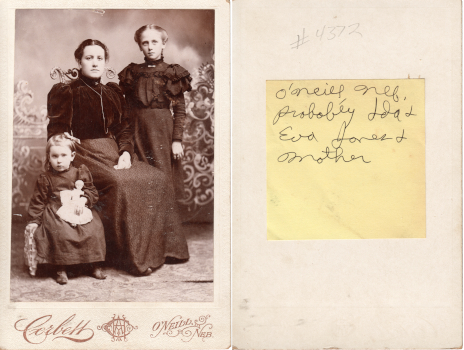 #4373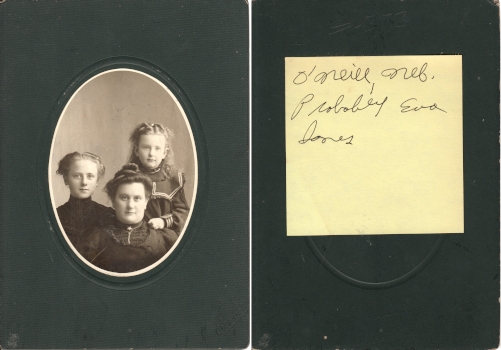 ---
STATUS: AVAILABLE - $10.00 each + SHIPPING
---
---
PHOTOGRAPH INFORMATION
NAME(S): # 4372 - Probably Ida & Eva Jones & mother
# #373 - Probably Eva Jones
PHOTOGRAPH: # 4372 & # 4373
OTHER INFO: O'neill, Neb.
PHOTOGRAPHER: Corbett, O'neil, Nebraska
CARD SIZE: # 4372 - 11.1 cm x 16.8 cm
# 4373 - 10.8 cm x 15.1 cm
WHERE PURCHASED: McAlester, Oklahoma
WHEN PURCHESED: September 13, 2018
---
RESEARCHED INFORMATION

Probably: NONE
Born:
Died:
Father:
Mother:
Married:
Children:
---
NOTE: These photograph were purchased three other photographs, one of Eva Jones, one of Ida Jones, and of the two of them together. The
names are not written on these two photographs but on a note attached to rear of photographs and listed as "Probably". Also,
two are taken in O'Neill, Nebraska and the other three in Newman Grove, Nebraska. Because of the apparent age differences in the
photographs labeled "Preobably" I am not sure that they have been identified correctly. My personal guess is that the two
photographs with their mother and the Post-it-notes have been probably misidentified.
Click
HERE
for another photograph identified as "Probably" Eva & Ida
Click
HERE
for another photograph of Eva
Click
HERE
foa another photograph of Ida
---
SOURCES