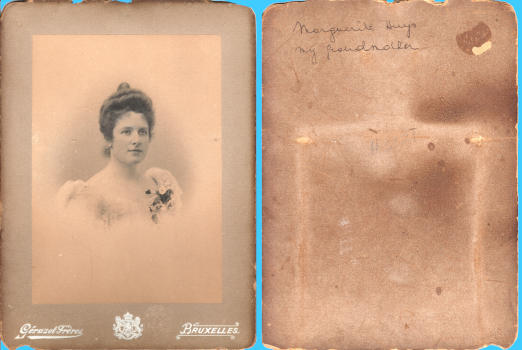 ---
STATUS: AVAILABLE - $10.00 + SHIPPING
---
---
PHOTOGRAPH INFORMATION
NAME(s): Marguerite Huys
PHOTOGRAPH: # 3321
OTHER INFO: my grandmother
PHOTOGRAPHER: Geruzel Freres, Bruxelles, (French for Brussels, prob Belguim)
CARD SIZE: 13.8 cm x 18.8 cm
WHERE PURCHASE
WHEN PURCHASED: January 4, 2016
---
RESEARCHED INFORMATION

Probably: NO INFO
Born:
Died:
Father:
Mother:
Married:
Children:
---
NOTES
I find only 2 referenced to a Marguerite Huys. I'm not sure either fits the time or place of the photograph.
1) Marguerite Huys daughter of Louis & Pherorble Huys. Born 1910 in Manitoba, Canada.
Found in 1916 Census for Manitoba, Canada.
2) Marguerite Huys born 1915. Died 2007. Buried Brabant Wallon, Région wallonne, Belgium.
---
SOURCES
BillionGraves Index