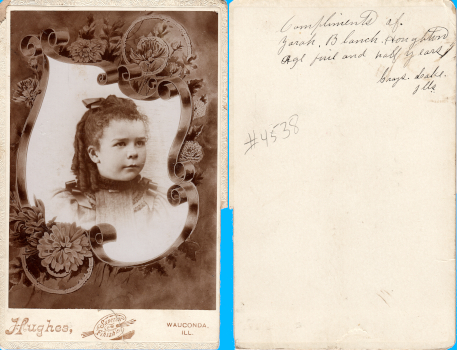 ---
STATUS: AVAILABLE - $10.00 + SHIPPING
---
---
PHOTOGRAPH INFORMATION
NAME(S): Zarah Blanch Houghton
PHOTOGRAPH: # 4538
OTHER INFO: Compliments of,
Age five anbd half years
Grays Lake, Ills
PHOTOGRAPHER: Huges, Wauconda, Illinois
CARD SIZE: 10.9 cm x 16.7 cm
WHERE PURCHASED: New Braunfels, Texas
WHEN PURCHESED: February 10, 2019
CONDITION: Edge of lower right edge of card broken off

---
RESEARCHED INFORMATION

Probably: Zarah / Zora Blanche Houghton
Born: June 1890, Illinois
Died: January 10, 1971, Chicago, Cook County, Illinois
Father: Wilbur John Houghton
Mother: Effie Evaline "Eva" Gray
Married: Page B. Keown
Children: Page B.
---
NOTES
Her mother remarried in February 1900 and Zora/Zarah was born in June 1900. Her mother must have
been pregnant with her when she remarried. Zora/Zarah's father did not die until 1901 so I assume possibly
that her mother and father divorsed.
All references to her give her first name as "Zora" but since the photograph implies it was from her (parents)
and the name is written as "Zarah" I would assume this is the correct spelling. Possibly she herself shortened
it or perhaps when she or her mother gave her name to the census taker and others they just assumed that
it was spelled "Zora".
---
SOURCES



1900 Census Avon Township, Lake County, Illinois
1930 Census Grayslake, Lake County, Illinois
1940 Census Grayslake, Lake County, Illinois
A genealogy of the Nye family
Edwardsville Intelligencer (Edwardsville, Illinois) Newspaper Jan 11, 1971 (Obituary(
FindAGrave.com