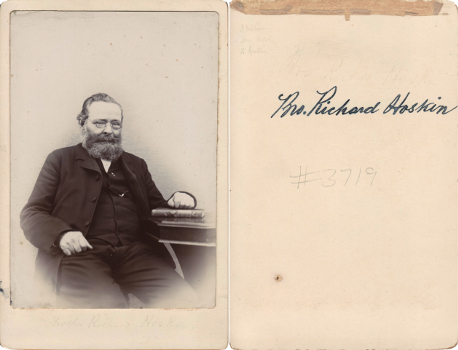 ---
STATUS: AVAILABLE - $10.00 + SHIPPING
---
---
PHOTOGRAPH INFORMATION
NAME(S): Bro. Richard Hoskin
PHOTOGRAPH: # 3719
OTHER INFO: None
PHOTOGRAPHER: Unknown
CARD SIZE: 10.7 cm x 16.3 cm
WHERE PURCHASED: Gurnee, Illinois
WHEN PURCHESED: September 2, 2016
---
RESEARCHED INFORMATION

Possibly: Richard L. Hoskin
Born:
Abt 1840, England
Died:
1922
Father:
Mother:
Married:
Margaret
Children:
Charles Richard
---
NOTES
I place this photograph taken about late 1890's to early 1900's due to the card stock, color, and thickness of the photograph.
There are only 2 Richard Hoskins which appear in the 1900 census which would be of the approximate age of the Richard
in the photograph. The other is in Toledo, Ohio. I chose this one due only to the
proximity
of where I purchased the photograph.
Without a location on the photograph this is just an educated guess.
---
SOURCES
1880 Census Lancaster, Grant
County, Wisconsin
1900 Census Barron, Barron County, Wisconsin
1905 State Census Barron, Barron County, Wisconsin
1910 Census Barron Ward 2, Barron County, Wisconsin
1920 Census Barron, Barron County, Wisconsin
FindAGrave.com