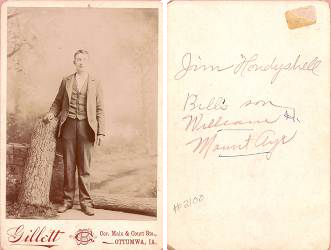 ---
STATUS: AVAILABLE - $10.00 + SHIPPING
---
---
PHOTOGRAPH INFORMATION
NAME(S): Jim Hondyshell
PHOTOGRAPH: # 2100
OTHER INFO: Bill's son, William H., Mt. Ayr
PHOTOGRAPHER: Gillett, Ottumwa, Iowa
CARD SIZE: 10.75 cm x 16.5 cm
WHERE PURCHASED: Springfield, Missouri
WHEN PURCHESED: June 9, 2012
---
RESEARCHED INFORMATION

Probably:
James Buchanan Houdyshell
Born:
November 18, 18577, Bladensburg, Wapello County, Iowa
Died:
April 10,1930, Springfield, Greene County, Missouri
Father:
Andrew Jackson Handyshell
Mother:

Elzara Mace
Married:
Lettie Flemming, February 21, 1881, Ottumwa, Wapello County, Iowa
Children:
Laura G., Guy Grover, James Cleveland, Bonnie Grace, Lettie Ina & Andrew Jackson

---
NOTES
On photograph "Bill's son, William H., Mt. Ayr" may be person to whom photo
was intended. Unable to find any William/Bill with sone named Jim/James.
---
SOURCES
1860 Census Competine Township, Wapello County, Iowa
1870 Census Pleasant Township, Wapello County, Iowa
1880 Census Bladensburg, Wapello County, Iowa
1900 Census Agency Township,​ Wapello County,​ Iowa
1910 Census Golden City Township, Barton County, Missouri
1920 Census Golden City, Barton County, Missouri
1930 Census Golden City, Barton County, Missouri
Iowa, Select Marriages Index
History of Wapello County, Iowa, pg 114
Missouri, Death Certificate
FindAGrave.com