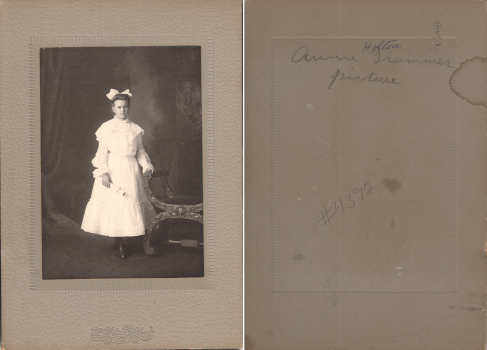 ---
STATUS: AVAILABLE - $10.00 + SHIPPING
---
---
PHOTOGRAPH INFORMATION
NAME(S): Annie Holton Trammer
PHOTOGRAPH: # 4392
OTHER INFO: picture
PHOTOGRAPHER: The Shephard Company, Providence, Rhode Island
CARD SIZE: 14.8 cm x 21.4 cm
WHERE PURCHASED: Marion, Illinois
WHEN PURCHESED: September 18, 2018
---
RESEARCHED INFORMATION
Possibly: Annie Josephine Holton
Born:
Novovember 2, 1892, Charlestouwn, County Mayo, Ireland
Died:
Father:
Mother:
Married:
Children:
---
NOTES
I only find 3 Annie Holtons in Rhode Island for the time frame of the photograph.
One died age 28 under her maiden name so I assume
she was unmarried. The second married a Frank Bennett and died in 1968 under that name. This left only the annie Holton listed to
the left, but I can find no record of her after 1920 as of yet.
---
SOURCES
1910 Census Pawtucket Ward 6, Providence County, Rhode Island
1920 Census Providence Ward 2, Providence County, Rhode Island
Rhode Island, State and Federal Naturalization Records