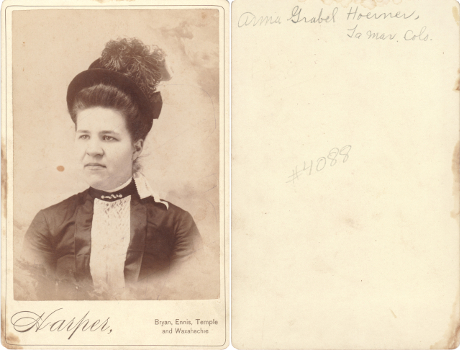 ---
STATUS: AVAILABLE - $10.00 + SHIPPING
---
---
PHOTOGRAPH INFORMATION
NAME(S): Anna Grabel Hoerner
PHOTOGRAPH: # 4088
OTHER INFO: LaMar, Colo.
PHOTOGRAPHER: Harper, Bryan/Ennis/Temple/Waxahachie, Texas
CARD SIZE: 10.8 cm x 16.5 cm
WHERE PURCHASED: Stephenville, Texas
WHEN PURCHESED: October 21, 2017
---
RESEARCHED INFORMATION

Probably: Anna Hoerner
Born:
June 22, 1864, East Donegal Township, Lancaster County, Pennsylvania
Died:
November 13, 1947, Lancaster, Lancaster County, Pennsylvania
Father:
John G. Hoerner
Mother:
Barbara Grabill or Kreybill
Married:
Children:
---
NOTES
Click
HERE
for a photograph with her aunt Barbara G. (Hoerner) Bowman and cousin
Susan (Bowman) Sykes/Thornston
This is my reasoning for this being Anna Hoerner listed above. First, "LaMar, Colo." listed on back of photograph. in 1910 the
entire family (parents & siblings) were in Bent County, Colorado. In 1920 Anna is listed in Las Animas, Colorado which is only
35 miles from LaMar. Second, her middle name on the photograph "Grabel" is very similar to her mother's last name which I find
spelled two ways "Grabill" and "Kreybill". I tend to lean toward "Grabill" as Anna had a brother whose given name was "Grabill".
What she was doing in Texas to have her photograph taken is beyond what I can determine.
---
SOURCES
1870 Census East Donegal Township, Lancaster County, Pennsylvania
1880 Census
East Donegal Township, Lancaster County, Pennsylvania
1900 Census Marietta, Lancaster County, Pennsylvania
1910 Census Precinct 10, Bent County, Colorado
1920 Census Las Animas, Bent County, Colorado
Lancaster County, Pennsylvania Death Certificate
FindAGrave.com