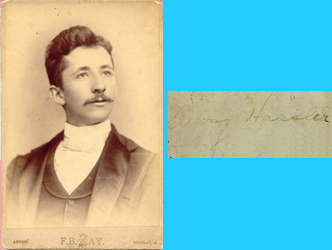 ---
STATUS: REUNITED WITH FAMILY
---
---
PHOTOGRAPH INFORMATION
NAME(S): Avery Hassler
PHOTOGRAPH: # 879
OTHER INFO: None
PHOTOGRAPHER: F.B. Zay
CARD SIZE: 10.75 cm x 16.5 cm
WHERE PURCHASED: Bryan, Texas
WHEN PURCHESED: January 4, 2005
---
RESEARCHED INFORMATION

Identified:
Avery Holmes Hassler
Born:
April 30, 1863 in Westmoreland County, Pennsylvania
Died:
September 19, 1904 at his home in Indianapolis, Indiana
Married:
Margaret Erma Hassler, September 27, 1899 in Pawnee City, Nebraska
Father:
David Shearer Hassler
Mother:
Elizabeth Morton Wakefield
---
NOTES
The following from Jerry Hassler:
Avery was at one time private secretary to Eli Lilly of Indianapolis. He also sang and wrote music.
He was a cousin to Charles Wakefield Cadman, a noted composer. Avery was one of seven children
born to David Shearer Hassler and Elizabeth Morton Wakefield. Elizabeth Wakefield's grandmother,
also Elizabeth, was a relative of John Morton, a signer of the Declaration of Independence. David
Shearer and Erma's (Avery's wife) father, Augustus E. Hassler were brothers. Avery and Erma had two
children, my father, Donvovan Strathmore Hassler (deceased) and his sister, Avora Zurlene Hassler
(deceased). David Shearer Hassler and Augustus E. Hassler were sons of John and Sarah Shearer
Hassler. John Hassler was a son of Joseph Hassler and Anna Maria Roemer Hassler. Joseph Hassler
was a son of Michael & Margreta Hassler. Michael Hassler, who died in Codorus Township, York County,
Pa in 1774, sailed from Rotterdam of the Ship Ann, arriving in Philadelphia September 28, 1749. He died
in 1774. It is assumed he came from Switzerland.
---
SOURCES
1870 Census Montgomery Co., Pennsylvania
1880 Census Lexington, Stark Co., Ohio
Family