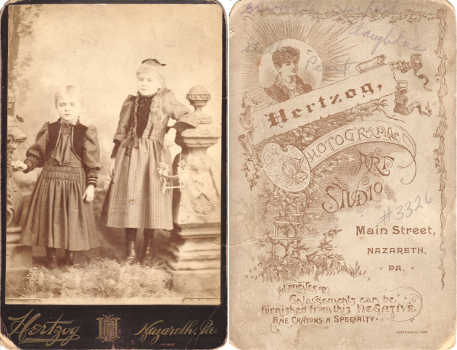 ---
STATUS: AVAILABLE - $10.00 + SHIPPING
---
---
PHOTOGRAPH INFORMATION
NAME(s): Stella & Pearl Harper?
PHOTOGRAPH: # 3326
OTHER INFO: Granvile Harper's daughters
PHOTOGRAPHER: Hertzog, Nazareth, Pennsylvania
CARD SIZE: 10.7 cm x 16.4 cm
WHERE PURCHASED: Ft. Worth, Texas
WHEN PURCHASED: January 4, 2016
---
RESEARCHED INFORMATION

Probably: NO INFO
Born:
Died:
Father:
Mother:
Married:
Children:
---
NOTES
Father's first name of Granville is very plain to read as is girl's names of Stella & Pearl,
but last name is more difficult. Took it as "Harper" and other variations without success.
Unable to fine a Pearl and Stella as siblings.Below is copy of last name if anyone has
better luck than I did.

---
SOURCES