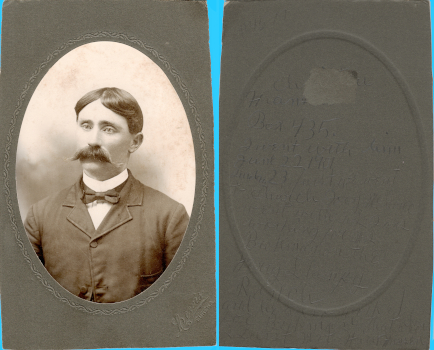 ---
STATUS: AVAILABLE - $10.00 + SHIPPING
---
---
PHOTOGRAPH INFORMATION
NAME(S): Chr?????n Hans??
PHOTOGRAPH: # 4577
OTHER INFO: Box 435. I went with him June 22, 1901 sunday 23, furst we went to church.
Jocy Mchome went with us. I was working for Mrs Brokman on the Henry
Slampy Ranch and he also worked for Brokma that when I first met Him.
Hansen
PHOTOGRAPHER: Levois, Eureka, (State unknown)
CARD SIZE: 10.6 cm x 17.2 cm
WHERE PURCHASED: Denton, Texas
WHEN PURCHESED: March 22, 2019
---
RESEARCHED INFORMATION

Possibly: Christian Hansen
Born: January 11, 1848, Denmark
Died: October 1, 1918
Father:
Mother:
Married:
Children:
---
NOTES
There was a sticker across the name when I purchased the photograph and I specifically asked
the cashier to not remove it as I thought I could do so and leave name intact. She turned around
and handed it to another lady to wrap and she immediately tore the sticker off. So, the above
"Christian Hansen" is the best guess as he is the only Hansen near a town of Eureka I can find.
Also the name "Hansen" is used in the note written of the back.
---
SOURCES
1880 Census St Louis Ward 1, St Louis (Independent City), Missouri
1900 Census St Louis Ward 1, St Louis (Independent City), Missouri
1904 St Louis, Missouri, City Directory, 1904
1910 Census St Louis Ward 27, Saint Louis City, Missouri
FindAGrave.com