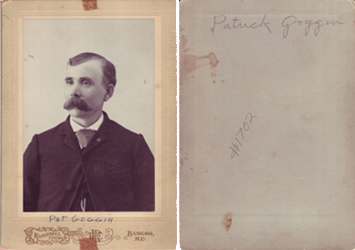 ---
STATUS: AVAILABLE - $10.00 + SHIPPING
---
---
PHOTOGRAPH INFORMATION
NAME(S): Patrick Goggin
PHOTOGRAPH: # 1702
OTHER INFO: None
PHOTOGRAPHER: Ramsdell Studio, Bangor, Maine
CARD SIZE: 13 cm x 18.25 cm
WHERE PURCHASED: Houston, Texas
WHEN PURCHESED: October 12, 2009
---
RESEARCHED INFORMATION

Probably: Patrick H. Goggin
Born:
June 1853, Ireland
Died:
Father:
(Possibly)
Mich Goggan
Mother:
(Possibly)
Bridget Dunphy
Married:
Children:
---
NOTES
First note that in 1900 census Patrick lists his date of birth as June 1853.
There are 5 named Patrick Goggin/Goggan listed in the Ireland Catholic Parish Registers for baptism.
(1) Patrick Goggin, parents: Patk Goggin and Margt McDonnell, baptized March 23, 1853.
(2) Patrick Goggin, parents: Wm Goggin and Bess Dineen, baptized March 27, 1853.
(3) Patrick Goggin, parents: James Goggin and Mary Harrington, baptized March 5, 1854.
(4) Pat Goggin, parents: Edmund Goggin and Mary Noonan, baptized November 27, 1852.
(5) Patrick Goggan, parents: Mich Goggan and Bridget Dunphy, baptized July 27, 1853.
Of the above only #3 & #5 could be Patrick being baptized after his date of birth. If I were to guess I would choose #5 as he was baptized
soon after birth and Catholics place great importance on baptism, and would baptize as soon after birth as possible!
---
SOURCES
1900 Census Orono, Penobscot County, Maine
1926 Bangor, Maine, City Directory
1927 Bangor, Maine, City Directory
1928 Bangor, Maine, City Directory
Naturalization Record Indexes
Maine, Federal Naturalization Record