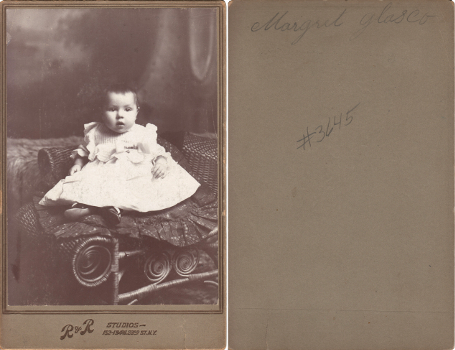 ---
STATUS: AVAILABLE - $10.00 + SHIPPING
---
---
PHOTOGRAPH INFORMATION
NAME(S): Margret Glasco
PHOTOGRAPH: # 3645
OTHER INFO: None
PHOTOGRAPHER: R & R Studios, New York, (New York)
CARD SIZE: 10.7 cm x 16.5 cm
WHERE PURCHASED: Eau Claire, Wisconsin
WHEN PURCHESED: August 31, 2016
---
RESEARCHED INFORMATION

Probably: Margaret Mullen
Born:
Abt 1882, New York
Died:
August 3, 1962
(Possibly)
Father:
Mother:
Married:
James Glasco
Children:
Charles V., James, Regina Laura, & Edna
---
NOTES
I find 3 Margaret Glascos in New York. One (list to the right) born abt 1882, second one born 1899, and the third born 1903.
The type of card stock used, the border around the photograph and the printing for the photographer places this photograph
from arount the 1880 time period which is why I chose Margaret #1. I believe whoever wrote the name on the back did so
when she was an adult and married and thus used her married name.
There are 3 Margaret Mullens in Brooklyn, New York born in 1882 in the 1900 census, not sure which she is.
---
SOURCES
1905 State Census Brooklyn, Kings County, New York
1910 Census Brooklyn Ward 27, Kings County, New York
1915 State Census Kings County, New York
1925 State Census Brooklyn, Kings County, New York
1940 Census New York, Queens County, New York
Social Security Applications and Claims Index (For daughter Regina)
FindAGrave.com
(Possibly)