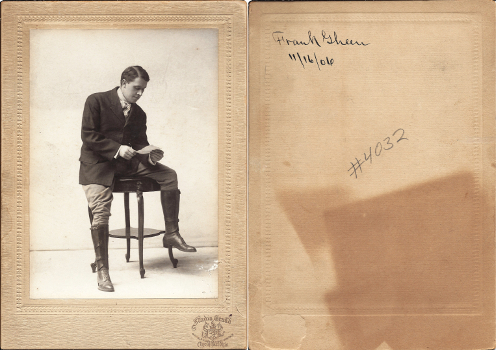 ---
STATUS: AVAILABLE - $10.00 + SHIPPING
---
---
PHOTOGRAPH INFORMATION
NAME(S): Frank Gheen
PHOTOGRAPH: # 4032
OTHER INFO: 11/16/06
PHOTOGRAPHER: Studio Grand, Cincinnati, Ohio
CARD SIZE: 12.9 cm x 18.2 cm
WHERE PURCHASED: Lawton, Oklahoma
WHEN PURCHESED: August 2, 2017
---
RESEARCHED INFORMATION

Possibly: Francis Marion "Frank" Gheen
Born:
May 6, 1883, Morgan County, Ohio
Died:
February 28, 1974, Bellaire, Belmont County, Ohio
Father:
Isaac Gheen
Mother:
Margaret E. Sheets
Married:
Nancy Pinson, 1902, Ohio County, West Virginia
Children:
Carl Owen, Lena Marguerite, Nina Pearl, Robert Earl, Mary Edith, & Helen Elizabeth
---
NOTES
This is listed as only possibly Francis Marion "Frank" Gheen due to the fact that although in the 1900 and 1910 census
there are no "Frank Gheen" listed in Cincinnati although in the 1907 Cincinnati City Directory there are three different
ones listed. Note photograph date is 1906. There is a Frank P. Gheen that I discounted as he lived up near Akron, Ohio
and appears to have remained in that area. I chose this person as most possible as in 1900 he was in Illinois and in 1910
in Morgan County, Ohio and would probably have traveled on old Highway 50 from Illinois to Morgan County, Ohio passing
through Cincinnati, Ohio on the way.
Do note that this is only a guess on my part.
---
SOURCES
1900 Census Harter Township, Clay County, Illinois
1910 Census Windsor Township, Morgan County, Ohio
1920 Census Triadelphia, Ohio County, West Virginia
1930 Census Liberty District, Ohio County, West Virginia
1940 Census Wheeling, Ohio County, West Virginia
Ohio, Births and Christenings Index
West Virginia, Marriages Index
World War I Draft Registration Card
World War II Draft Registration Card
Ohio, Deaths
FindAGrave.com