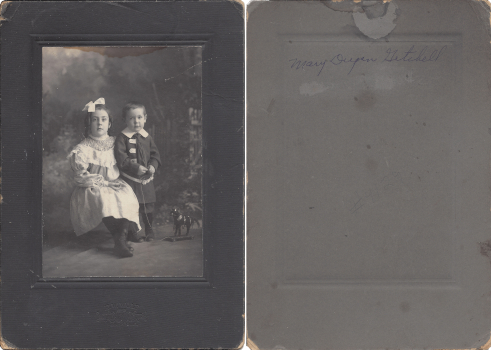 ---
STATUS: AVAILABLE - $10.00 + SHIPPING
---
---
PHOTOGRAPH INFORMATION
NAME(S): Mary Dugan Getchell
PHOTOGRAPH: # 4129
OTHER INFO: None
PHOTOGRAPHER: R. W. Wolf, Minneapolis, (Minnesota)
CARD SIZE: 15.1 cm x 21.5 cm
WHERE PURCHASED: Burkburnett, Texas
WHEN PURCHESED: April 7, 2018
---
RESEARCHED INFORMATION

Possibly: Mary Catherine Dugan
Born:
July 8, 1896, Minnesota
Died:
May 15, 1970, Freehold, New Jersey
Father:
Michael Lawrence Dugan
Mother:
Anne O'Rourke
Married:
George Edward Getchell
Children:
Mary Ann
,
Kathryn E., Martha Dugan
,
+ 1 other
---
NOTES
This is the only Mary Dugan I can find in the US that is married to a Getchell. I do not know who the boy is.
I can find no record of Mary Dugan having a younger brother. All the family trees I find have her as an only
child. One possibility is that she had a brother who was born and died between 1900 and 1910 and therefore
not showing up on any census records. A second possibility is that he is a cousin or some other relative. This
is why I listed her as only "Possibly". The third possibility is that I am completely wrong.
---
SOURCES
1900 Census Minneapolis Ward 3, Hennepin County, Minnesota
1905 State Census Minneapolis Ward 3, Hennepin County, Minnesota
1910 Census Minneapolis Ward 3, Hennepin County, Minnesota
1920 Census Minneapolis Ward 3, Hennepin County, Minnesota
1930 Census Teaneck Township, Bergen County, New Jersey
1931 Hackensack, New Jersey, City Directory
1940 Census Teaneck Township, Bergen County, New Jersey
Minnesota, Births and Christenings Index
Social Security Death Index
FindAGrave.com