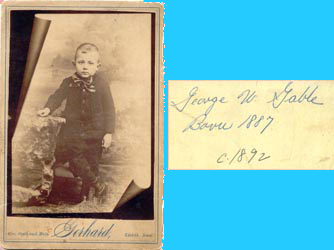 ---
STATUS: AVAILABLE - $10.00 + SHIPPING
---
---
PHOTOGRAPH INFORMATION
NAME(S): George W. Gable
PHOTOGRAPH: # 319
OTHER INFO: Born 1887, c. 1892
PHOTOGRAPHER: Gehard, Keokuk, Iowa
CARD SIZE: 10.75 cm x 16.25 cm
WHERE PURCHASED: eBay
WHEN PURCHESED : March 2003
---
RESEARCHED INFORMATION

Probably: George W. Gable
Born:
Died:
1892
Father:
George Washington Gable
Mother:
Jennie M. Smith
Married:
Children:
---
NOTES
The gravestone from Find-A-Grave listing only lists name as Infant Gable and gives the date of death as 1892.
The connection to the parents listed is simply due to the fact that they are buried in the same cemetery and his
name George W. (probably "Washington") is the same as his father and grandfather. Also, in 1900 census his
mother Jennie M. is listed as having 5 children of which only 3 were living.
---
SOURCES
FindAGrave.com