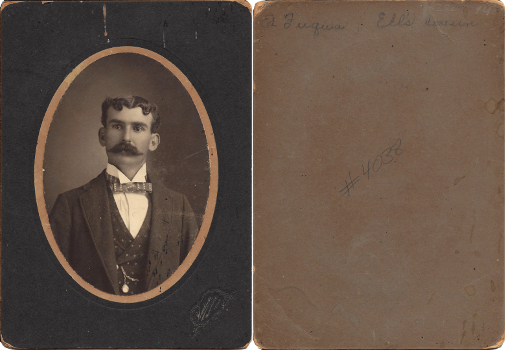 ---
STATUS: AVAILABLE - $10.00 + SHIPPING
---
---
PHOTOGRAPH INFORMATION
NAME(S): Ed Fuqua
PHOTOGRAPH: # 4038
OTHER INFO: Ell's cousin
PHOTOGRAPHER: Hudson, Waxahachie, Texas
CARD SIZE: 13.3 cm x 18.3 cm
WHERE PURCHASED: Burkburnett, Texas
WHEN PURCHESED: August 2, 2017
---
RESEARCHED INFORMATION

Possibly: Edward Franklin "Ed" Fuqua
Born:
March 20, 1878, San Saba County, Texas
Died:
June 20, 1967, Kent County, Texas
Father:
Alfred Newton Bonapart Fuqua
Mother:
Jo Parlea Hudson Fuqua
Married:
Edna Elizabeth Cross, 1906, Clairemont, Texas

Children:
Bessie Iona & Lois Irene
---
NOTES
I list him as only "Possibly" due to fact that I cannot find him anywhere near Waxahachie, Texas at any time.
But, he is the only Ed Fuqua that fits the timeframe of the photograph. Possibly he was traveling when photograph
taken.
Also, concerning the names of his parents. The names "Alfred" for his father and "Jo" for his mother are only listed
on his death certificate without their middle names of "Bonapart" for his father and "Hudson" for his mother.
---
SOURCES
1880 Census Hamilton County, Texas
1900 Census Redmund, Kent
County, Texas
1910 Census Justice Precinct 3, Dickens County, Texas
1920 Census Justice Precinct 3, Dickens County, Texas
1930 Census Justice Precinct 3, Dickens County, Texas
World War I Draft Registration Card
World War II Draft Registration Card
Texas, Death Certificate
Chisum Family Tree on ancestry.com
FindAGrave.com