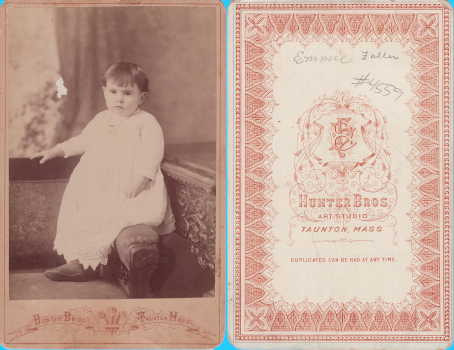 ---
STATUS: AVAILABLE - $10.00 + SHIPPING
---
---
PHOTOGRAPH INFORMATION
NAME(S): Emmie Fuller
PHOTOGRAPH: # 4559
OTHER INFO: None
PHOTOGRAPHER: Hunter Bros., Taunton, Massachusetts
CARD SIZE: 10.8 cm x 16.7 cm
WHERE PURCHASED: Buda, Texas
WHEN PURCHESED: February 10, 2019
---
RESEARCHED INFORMATION

Probably: Emily Ellsworth Fuller
Born: February 25, 1885, New Bedford, Bristol County, Massachusetts
Died: 1937, New Bedford, Massachusetts
Father: William Henry Fuller
Mother: Emma C. Sherman
Married: Marcus Malcolm Ryder, June 15, 1911,New Bedford, Bristol County, Massachusetts
Children: Alice Mae & George Herbert

---
NOTES
There are several Emma's & Emily's listed in the areas around Taunton, Massachusetts.
The style of printing on the photograph dates it to the late 1880's to early 1890's.
Emily Ellsworth Fuller is the only one whose age fits the time frame, all others being
born 18773 or earlier. I also assumed that "Emmie" was an early childhood nickname.
---
SOURCES
1900 Census New Bedford Ward 5, Bristol County, Massachusetts
1910 Census New Bedford Ward 5, Bristol County, Massachusetts
1919 New Bedford, Massachusetts, City Directory
1920 Census New Bedford Ward 5, Bristol County, Massachusetts
1921 New Bedford, Massachusetts, City Directory
1923 New Bedford, Massachusetts, City Directory
1925 New Bedford, Massachusetts, City Directory
1921 New Bedford, Massachusetts, City Directory
1926 New Bedford, Massachusetts, City Directory
1930 Census New Bedford, Bristol County, Massachusetts
Massachusetts, Town and Vital Records - Birth
Massachusetts, Birth Record
Massachusetts, Marriage Record
Massachusetts, Death Index