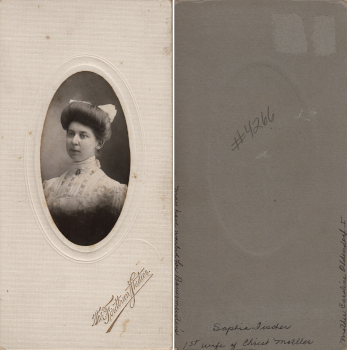 ---
STATUS: AVAILABLE - $10.00 + SHIPPING
---
---
PHOTOGRAPH INFORMATION
NAME(S): Sophia Fischer
PHOTOGRAPH: # 4266
OTHER INFO: 1st wife of Christ Moeller
Mother Caroline OIldendorf I
May have work for Bauermuster's
PHOTOGRAPHER: The Fordtran Studios (Poss. Peotone, Illinois)
CARD SIZE: 9,1 cm x 18,3 cm
WHERE PURCHASED: Terre Haute, Indiana
WHEN PURCHESED: June 11, 2018
---
RESEARCHED INFORMATION

Probably: Sophia Fischer
Born:
June 7, 1894, Crown Point, Indiana
Died:
January 15, 1916, Steyer, Will County, Illinois
Father:
Mother:
Married:
Children:
---
NOTES
This is the only reference to Sophia I can find. Having died at age 22 she possibly married a Moeller and
died shortly after which is why she is stated as having been Christ Moeller's first wife. I find no birth, marriage,
or census records of her.
---
SOURCES
Illinois, Deaths and Stillbirths Index