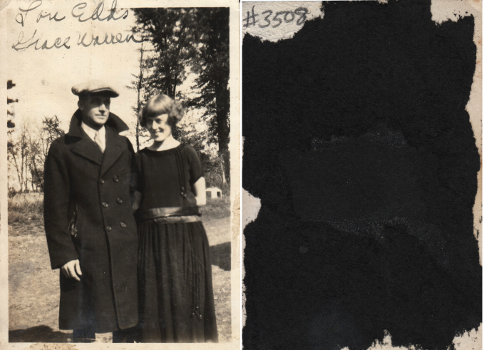 ---
STATUS: ENTIRE BOX OF PHOTOGRAPHS REUNITED
---
---
PHOTOGRAPH INFORMATION
NAME(S): Lou Edds & Grace Warren
PHOTOGRAPH: # 3508
OTHER INFO: None
PHOTOGRAPHER: Unknown
CARD SIZE: 5.8 cm x 8.4 cm
WHERE PURCHASED: Marion, Illinois
WHEN PURCHESED: June 3, 2016
---
RESEARCHED INFORMATION

Probably:
Louis C. "Lou" Edds
Born:
Feb. 25, 1897, Powhattan, Brown County, Kansas
Died:
January 14, 1973, Hiawatha, Brown County, Kansas
Father:
William Henry Edds
Mother:
Alice V.
Married:
Grace L. Warren, Apr. 16, 1924, Hiawatha, Brown Co., Kansas
Children:
Probably:
Grace L. Warren
Born: May 25, 1902, Minnesota
Died: January 19, 2004
Father: James Theron Warren
Mother: Laura D. Jonas
Married: Louis C. "Lou" Edds, A
---
NOTES
This photograph is included in a box of hundreds of paper photographs and old cabinet card photographs,
many named, some with just first names, and many many unnamed. Many of the unnamed photographs
are of the same people that are named in other photographs and many are not. There are just too many
of the unnamed photographs for me to scan due to the time it would take. I bought the box of photographs
and was told they all were from the same estate sale and thus all belonged to the same family. Many of
the unlabeled photographs are identifiable from the ones which are labeled. They seem to be divided into
two groups, the Thayer's family and related photo's from Vermont and the Sawyer/Funkhouser families
and related photo's from Kansas with a few photographs not related which were probably friends.
lick
HERE
for another photograp of Lou
---
SOURCES
1900 Census Morgan Township, Thomas County, Kansas (Lou)
1910 Census Northfield Township, Rice County, Minnesota (Grace)
1910 Census Mission Township, Brown County, Kansas (Lou)
1915 State Census Mission Township, Brown County, Kansas (Lou)
1920 Census Hiawatha, Brown County, Kansas (Grace)
1920 Census Mission Township, Brown County, Kansas (Lou)
1930 Census Elgin, Kane County, Illinois
1940 Census Elgin, Kane County, Illinois
World War I Draft Registration Card (Lou)
Social Security Death Index (Lou & Grace)
FindAGrave.com
(Lou)