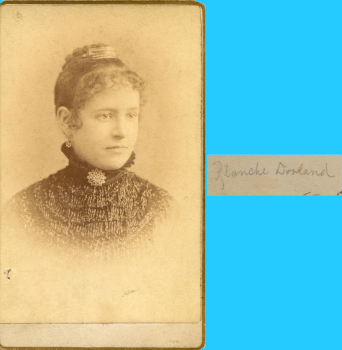 ---
STATUS: REUNITED WITH FAMILY
---
---
PHOTOGRAPH INFORMATION
NAME(S): Blanche Dorland
PHOTOGRAPH: # 26
OTHER INFO: None
PHOTOGRAPHER: Gehrig, Chicago (,Illinois)
CARD SIZE: 6 cm x 10.5 cm
WHERE PURCHASED: St. Joseph, Illinois
WHEN PURCHESED: January 31, 2003
---
RESEARCHED INFORMATION

Identified:
Blanch Marie Dorland
Born:
1880, West Union, Iowa
Died:
1927, Whittier, California
Father:
Mother:
Married:
Luther Clyde Herrick
Child:
Alan Gibson Herrick
---
NOTES
From Family Member
:
Blanche Marie Dorland was born in 1880 in West Union, Iowa. She married Luther Clyde Herrick and moved
to Anaconda, Montana. Their only son, Alan Gibson Herrick was born there in 1914 and he died in 1981 in
San Mateo, CA. Blanche moved to Whittier, CA when she became ill and eventually died at the age of 47.
She was living at her brother's home, Max Allen Dorland. Max was the father of Evelyn and Anne Dorland.
Anne is still alive and confirmed the photo for me. We call her Auntie Anne. My grandparents, William Stokes
Eggleson and Catherine Dorland Eggleston took care of Anne and Evelyn when their parents died. The two
girls were like older sisters to my mother and aunt. She remembers Blanche's son, Alan.
---
SOURCES
Family Member