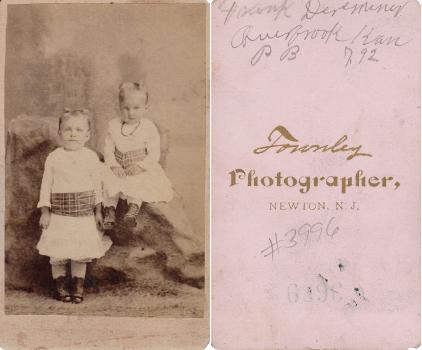 ---
STATUS: AVAILABLE - $10.00 + SHIPPING
---
---
PHOTOGRAPH INFORMATION
NAME(S): Frank Deremery
PHOTOGRAPH: # 3996
OTHER INFO: Overbrook, Kan., PB 792
PHOTOGRAPHER: Townley, Newton, New Jersey
CARD SIZE: 6.4 cm x 10.5 cm
WHERE PURCHASED: Bowie, Texas
WHEN PURCHESED: May 17, 2017
---
RESEARCHED INFORMATION

Possibly: Frank B. DeRemer
Born: July 13, 1861, Independence Township, Warren County, New Jersey
Died: 1947, Geary, Blaine County, Oklahoma
Father: Charles DeRemer
Mother: Martha
Married: Lydia T. Coursen
Children: Birdie A., Fannie J., & Philip Cleveland

Possibly:
Andrew J. DeRemer
Born:
December 15, 1858, Vienna, Warren County, New Jersey
Died:
June 1, 1924, Newton, Sussex County, New Jersey
Father:
Charles DeRemer
Mother:
Martha
Married:
Ida M. Falver, December 29, 1886, Hackettstown Township, Warren County, New Jersey
Children:
Ruth E., Ethel M., Dorothy I., & Mildred I.
---
NOTES
If this is indeed Frank B. DeRemer then he is probably the younger one in the photograph. Charles and Martha
DeRemer had 8 children of which the first two were Andrew and Frank. It is more likely that the photograph of
their first two children otherwise other children would have been included in the photograph.
---
SOURCES
1860 Census Independence, Warren County, New Jersey (Andrew) - (Father listed as Chs Dereamer)
1895 State Census Overbrook, Osage County, Kansas (Frank)
1900 Census Elk Townhsip, Osage County, Kansas (Frank)
1900 Census Newton Township, Sussex County, New Jersey (Andrew)
1910 Census Lone Mound Townhsip, Caddo County, Oklahoma (Frank)
1910 Census Newton Township, Sussex County, New Jersey (Andrew)
1920 Census Sulphur Ward 2, Murray County, Oklahoma (Frank)
1927 Tacoma, Washington, City Directory (Andrew)
1933 Tacoma, Washington, City Directory (Andrew)
1939 Tacoma, Washington, City Directory (Andrew)
1940 Census Lone Mound Townhsip, Caddo County, Oklahoma (Frank)
1940 Tacoma, Washington, City Directory (Andrew)
1941 Tacoma, Washington, City Directory (Andrew)
New Jersey Births and Christenings Index
New Jersey, Marriage Record (Andrew)
FindAGrave.com
(Frank)
FindAGrave.com
(Andrew)
DeRemer Family 2 working tree(1) on Ancestry.com