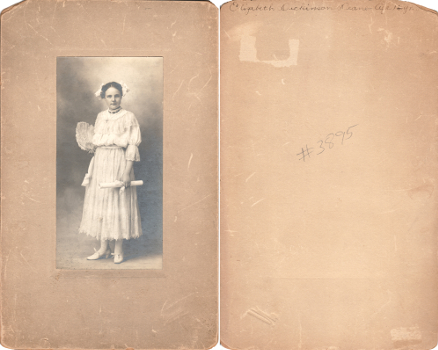 ---
STATUS: AVAILABLE - $10.00 + SHIPPING
---
---
PHOTOGRAPH INFORMATION
NAME(S): Elizabeth Dickinson Deane
PHOTOGRAPH: # 3895
OTHER INFO: Age 14 yr
PHOTOGRAPHER: Barnard, Wallace, Idaho
CARD SIZE: 17 cm x 27 cm
WHERE PURCHASED: Palmetto, Florida
WHEN PURCHESED: February 18, 2017
---
RESEARCHED INFORMATION

Probably: Elizabeth Dickinson Brown (Deane)

Born:
December 16, 1892, Wardner, Shoshone County, Idaho
Died:
Father:
James Brown
Mother:
Claribel Rebecca Dickinson
Married 1st:
William Parker Guptill, April 7, 1911, Clarke County, Washington
(Died Jan 20, 1917)
Children:
Edward Hamilton, Milton Dickinson, & Willard P
Married 2nd:
Leonard Van Diggelen
Children:
Married 3rd:
Children:
Married 4th:
Bert E. Williams
, (Clark County, Washington License issued Date: January 7, 1949)
Children:
---
NOTES
In the 1900 census her mother is married to Frederic Dean (Frederick Thomas Deane) and record indicates they had been
married only 5 years. Apparently Elizabeth may have been adopted by her step-father and thus taking the surname of Dean/Deane.
Do not know if her real father had died or if parents were divorced, can find no record.
Marriage License application for marriage to Bert Williams states it is her 4th marriage. Can find no record of third marriage.
On license application for 4th marriage lists her name as Elizabeth D. Guptill.
---
SOURCES
1900 Census Wallace, Shoshone County, Idaho
1916 Kootenai, Idaho, City Directory
1928 Spokane, Washington, City Directory
1929 Spokane, Washington, City Directory
1930 Spokane, Washington, City Directory
1930 Census Foothill Township, Spokane County, Washington
1931 Spokane, Washington, City Directory
1940 Census Chattaroy Township, Spokane County, Washington
1943 Portland, Oregon, City Directory
Idaho, Birth Index
Clarke County, Washington, Marriage Record
Washington, Marriage Records (4th marriage)
Deane Family Tree on Ancestry.com
michael guptill Family Tree on Ancestry.com