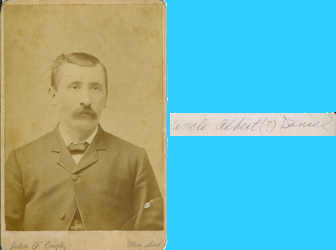 ---
STATUS: AVAILABLE - $10.00 + SHIPPING
---
---
PHOTOGRAPH INFORMATION
NAME(S): Albert Daniel
PHOTOGRAPH: # 936
OTHER INFO: Uncle
PHOTOGRAPHER: John F. Engle, Photo. Artist
CARD SIZE:
WHERE PURCHASED: Carmine, Texas
WHEN PURCHESED: December 13, 2005
---
RESEARCHED INFORMATION

Possibly
:
Albert Daniel
Born:
Abt 1854, North Carolina
Died:
Father:
William Daniel
Mother:
Elizabeth
Married:
Children:
---
NOTES
I find 3 Albert Daniels in census records of the time period of John F. Engles photographic career (1880-90).
I believe due to location nearest Raleigh, N.C. the one above is most likely this Albert Daniel.
John F. Engle the photographer is listed in "The Roster of North Carolina Photographers".
Also listed on "Library of Congress" website as a Raleigh, N.C. photographer from 1880-90.
---
SOURCES
1870 Census Granville Co., North Carolina