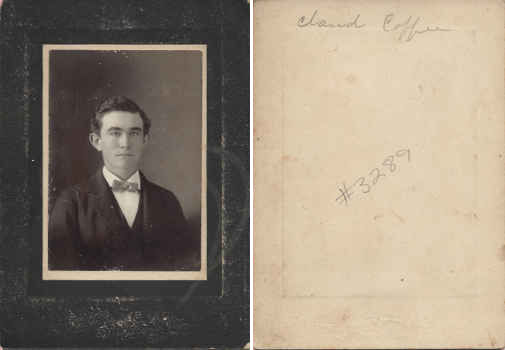 ---
STATUS: AVAILABLE - $10.00 + SHIPPING
---
---
PHOTOGRAPH INFORMATION
NAME(S): Claud Coffee
PHOTOGRAPH: # 3289
OTHER INFO: None
PHOTOGRAPHER: Corbitt Studio, Shelbyville, Tennessee
CARD SIZE: 11.3 cm x 15.6 cm
WHERE PURCHASED: Lubbock, Texas
WHEN PURCHESED: September 1, 2015
---
RESEARCHED INFORMATION

Probably:
Claud Coffey
Born:
April 1899, Tennessee
Died:
Father:
John H. Coffey
Mother:
Sarah Norvell
Married:
Children:
---
NOTES
There are several Claude Coffee/Coffey's born in the same area or Tennessee.
My choice of this one is based strictly on where I purchased the photograph
( i.e. Texas), and the fact that this one lived in Texas in the 1920 census.
---
SOURCES
1900 Census Civil District 10, Grainger County, Tennessee
1910 Census Civil District 6, Anderson County, Tennessee
1920 Census Justice Precinct 5, Coleman County, Texas
Beebarschday Family Tree on Ancestry.com