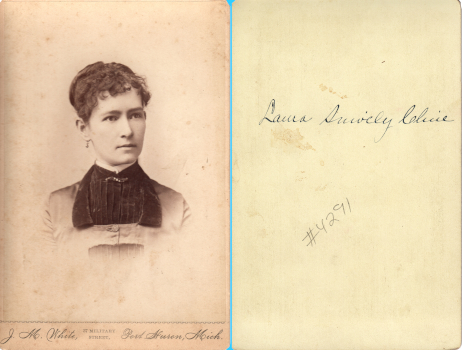 ---
STATUS: AVAILABLE - $10.00 + SHIPPING
---
---
PHOTOGRAPH INFORMATION
NAME(S): Laura Snively Cline
PHOTOGRAPH: # 4291
OTHER INFO: None
PHOTOGRAPHER: J. M. White, Port Huron, Michigan
CARD SIZE: 10.8 cm x 16.4 cm
WHERE PURCHASED: Abingdon, Virginia
WHEN PURCHESED: June 19, 2018
---
RESEARCHED INFORMATION

Probably: Laura Snively
Born:
February 25, 1865, Philadelphia, Pennsylvania
Died:
Jananuary 14, 1920, Glenside, Montgomery County, Pennsylvania
Father:
Lawrence Snively
Mother:
Susanna Adams
Married:
William M Cline, December 19, 1882
Children:
William M. & Elva
---
NOTES
Click
HERE
for a photograph of her mother Susanna (Adams) Snively
The following from the History of St. Clair County, Michigan concerning her husband William
WILLIAM M. CLINE, attorney and counselor at law, was born in Canada, on the 31st day of July, 1851;
his ancestors on his father's side were from Pennsylvania, and his mother's fron Scotland. His parents
moved to Michigan and settled in Sanilac County in 1859, where he attended school and became a
teacher in the public schools of that and St. Clair Counties. He also Attended the State Normal School
and Agricultural College. He commenced the study of law in October, 1874, and attended the Law
Department of the Michigan University in the winter of 1874 and 1875. Was admitted to the bar in
October, 1875; continued in the study of law, and in 1877 located in Port Huron; since then has been
engaged in the practice of his profession here, and since 1880 has been a member of the firm of Chadwick
& Cline.
He was married on the 19th day of December, 1882 to Miss Laura Snively
, of Philadelphia, Penn.
William M. Cline died July 22, 1896 and it appears his wife and children moved to Philidelphia, Pennsylvania.
---
SOURCES
1860 Census Philadelphia Ward 18 South West Division, Philadelphia
1870 Census Philadelphia Ward 20 District 63, Philadelphia County, Pennsylvania
1880 Census Philadelphia, Philadelphia County, Pennsylvania
1900 Census Philadelphia Ward 22, Philadelphia County, Pennsylvania
1910 Census Philadelphia Ward 22, Philadelphia County, Pennsylvania
1920 Census Abington, Montgomery County
, Pennsylvania
History of St. Clair County, Michigan
Pennsylvania and New Jersey, Church and Town Records
Pennsylvania, Death Certificate
FindAGrave.com