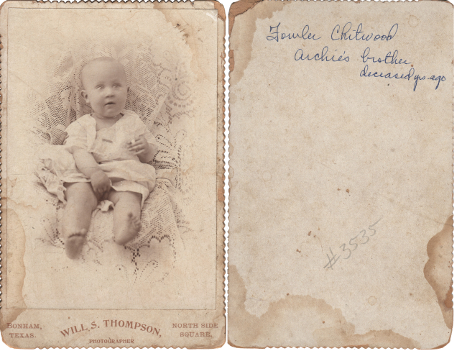 ---
STATUS: AVAILABLE - $10.00 + SHIPPING
---
---
PHOTOGRAPH INFORMATION
NAME(S): Fowler Chitwood
PHOTOGRAPH: # 3535
OTHER INFO: Archie's brother, deceased yrs ago
PHOTOGRAPHER: Will S. Thompson, Bonham, Texas
CARD SIZE: 10.7 cm x 16.4 cm
WHERE PURCHASED: Wichita Falls, Texas
WHEN PURCHESED: June 21, 2016
---
RESEARCHED INFORMATION

Probably: Fowler Chitwood (See note bottom left)
Born:
Died:
Father:
Martin Luther Chitwood
Mother:
Merry Miller
Married:
Children:
---
NOTES
I can find no record of Fowler Chitwood. All information is based on Archie Chitwood's records. My guess is that
Fowler was born and died between census and thus no census record for him. In the 1910 census for Archie's
mother it list her as the mother of 3 children of which only 2 were living. My guess is that Fowler was her
3rd child and had died prior to 1910. Unable to find any death or cemetery record for him.
---
SOURCES