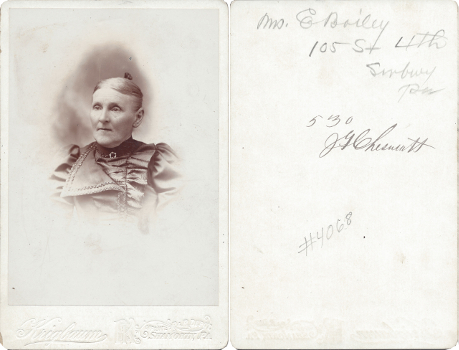 ---
STATUS: AVAILABLE - $10.00 + SHIPPING
---
---
PHOTOGRAPH INFORMATION
NAME(S): J. G. Chesneutt?
PHOTOGRAPH: # 4068
OTHER INFO: Ms. E. Bailey, 105 S-4th, Sunbury, Pa
PHOTOGRAPHER: Krigbaum, Shamokin, Pennsylvania
CARD SIZE: 10.8 cm x 16.6 cm
WHERE PURCHASED: McKinney, Texas
WHEN PURCHESED: August 30, 2017
---
RESEARCHED INFORMATION

Probably: NO INFO
Born:
Died:
Father:
Mother:
Married:
Children:
---
NOTES
Not sure about the names on this one. Only one I could find was a J. G. Chesnutt,
(think spelling on back of photo is wrong), but it was a man. Have not been able to
pin down who E. Bailey in Sunbury, Pennsylvania was.
---
SOURCES