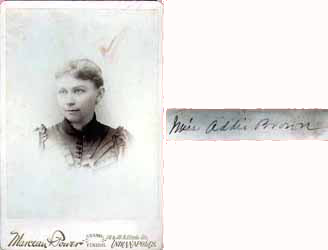 ---
STATUS: AVAILABLE - $10.00 + SHIPPING
---
---
PHOTOGRAPH INFORMATION
NAME(S):
Addie Brown
PHOTOGRAPH:
# 196
OTHER INFO:
Miss
PHOTOGRAPHER:
Marceau Bower, Indianapolis
CARD SIZE:
10.75 cm x 16.5 cm
WHERE PURCHASED:
Not Recorded
WHEN PURCHESED:
September 1999


---
RESEARCHED INFORMATION

Probably: NONE
Born:
Died:
Father:
Mother:
Married:
Children:

---
NOTES
I came across an article that tells of a widow Elizabeth Brown livinging Richmond, Wayne County,
Indiana in the year 1865 and her profession was a dressmaker. It does not mention any children at this
time but in the 1880 census for the same locale Elizabeth Brown widow, a dressmaker, had three
daughters, Addie 21, Emma 18 and Anna 16. All 4 of these females were born in Massachusetts.
---
SOURCES