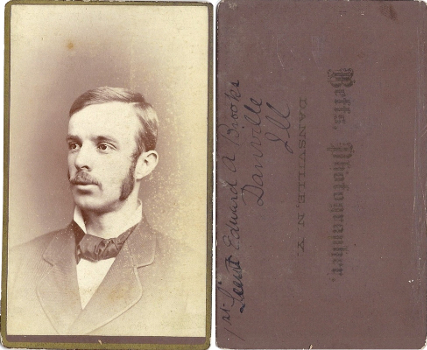 Click on photograph for larger downloadable scan (
Donation Info
)
---
STATUS: SCAN ONLY AVAILABLE
---
---
PHOTOGRAPH INFORMATION
NAME(S): Edward A. Brooks
PHOTOGRAPH: # 3801
OTHER INFO: 1st Lt., Dansville, Ill.
PHOTOGRAPHER: Beffs, Danville, New York
SCAN SIZE: 480 x 800 Pixels
WHERE OBTAINED: Donated
WHEN OBTAINED: Unknown
---
RESEARCHED INFORMATION

Possibly: Edward A. Brooks
Born:
May 1857, Illinois
Died:
Father:
Asahel Lyon Brooks
Mother:
Sarah Lufts Warner
Married:
Children:
---
NOTES
I cannot account for the discrepency between the printed town on the photograph of "Dansville, N.Y." and the written "Danville, Ill.".
Although I cannot find an Edward A. Brooks of the right age for the photograph in Dansville, N. Y., I do find the one listed to the
right in Danville, Illinois. Perhaps he was traveling and thought it would be nice to have his photograph taken in a town with very
similar name as his home town.
---
SOURCES
1860 Indianapolis Ward 1, Marion County, Indiana
1870 Census Decatur, Macon County, Illinois
1880 Census Danville, Vermilion County, Illinois
1900 Census Augusta, Bracken County, Kentucky
Howie Family Tree on Ancestry.com