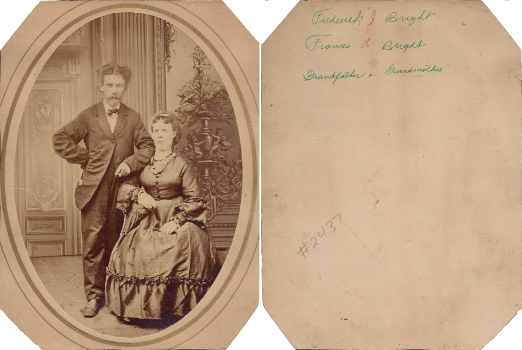 ---
STATUS: AVAILABLE - $10.00 + SHIPPING
---
---
PHOTOGRAPH INFORMATION
NAME(S):
Frederick J. & Frances A. Bright
PHOTOGRAPH:
# 2437
OTHER INFO:
Grandfather & Grandmother
PHOTOGRAPHER:
Unknown
CARD SIZE:
15.25 cm x 20.25 cm
WHERE PURCHASED:
Donated
WHEN OBTAINED:
May 8, 2013


---
RESEARCHED INFORMATION

Possibly
:
Frances "Fanny" Donaldson
Born:
Abt 1846, Canada
Died:
Father:
Mother:
Married:
Children:
Frederick W., Emma J. & Willie
(Poss. Frederick W. & Willie same person)



Possibly
:

Frederick "Fred" Bright
Born:
Abt 1840, Germany
Died:
Bef 1884
Father:
Mother:
Married:
Children:
---
NOTES
I think this is this possibly Frederick and Frances "Fannie" Donaldson Bright for the following reasons.
1) As mentioned "Fanny" is nickname for "Frances".
2) Frederick and Fanny are listed in the 1875 New York Census together with the children Willie (b: abt 1874) and Emma (b: abt 1872).
"Willie is probably short for "William".
3) In the 1892 city directory for Rochester, New York there is a Frederick W. Bright living with Frances Bright who is listed as "widowed",
probably her son "Willie".
4) There is a Fred W. Bright listed in the New York, Census of Inmates in Almshouses and Poorhouses, 1830-1920 admitted on
April 6, 1899 for veneral disease. He is listed as having a sister Mrs. V. Forest as a sister and only relative.
5) Emma J. Bright is listed in the Frederiksen - Gleason & Allied Families family tree as listed below as the daughter of Frederick and
Frances (Donaldson) Bright and married to a Stephen Vincent Forest.
---
SOURCES
1875 New York, State Census
1875 City Directory Rochester, New York
1884 City Directory Rochester, New York
1892 City Directory Rochester, New York
Frederiksen - Gleason & Allied Families family tree on Ancestry.com