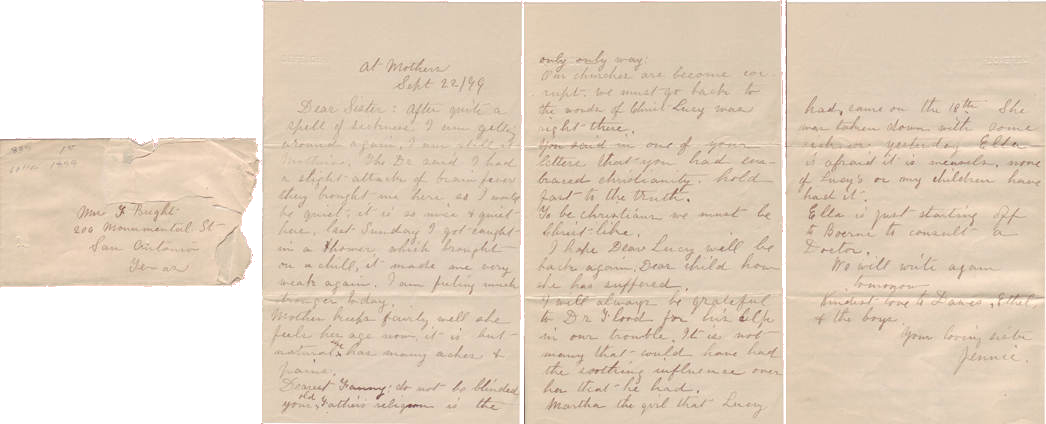 ---
STATUS: AVAILABLE - $10.00 + SHIPPING
---
---
LETTER INFORMATION
NAME(S): Fannie Bright
DOCUMENT: # 1020
OTHER INFO:
Envelope
Mrs. F. Bright, 206 Monumental St., San Antonio, Texas

Letter
at Mothers, ept 22/99

Dear Sister:

After quite a spell of sickness I am getting around again. I am still at Mother's. The Dr said I had a slight attack of brain fever,
they brought me here so I would be quiet. It is so nice & quiet here., last Sunday I got caught in a shower, which brought on a chill, it made
me very weak again. I am feeling much stronger today. Mother keeps fairly well she feels her age now, it is but natural she has many aches
& pains. Dearest Fanny" do not be blinded your old Father's religion is the only only way: Our churches are become corupt. We must go back
to the words of Christ. Lucy was right there. You said in one of your letters that you had enbraced Christianity. hold fast to the truth. To be
christian we must be Christ like. I hope dear Lucy will be back again. Dear child how she has suffered. I will always be grateful to Dr Flood
for his help in our trouble. It is not many that would have had the soothing influence over her that he had. Martha the girl that Lucy had came
on the 18th. She was taken down with some sickness yesterday Ella is afraid it is measels, none of Lucy's or my children have had it. Ella is just
starting off to Boerne to consult a Doctor. We will write again tomorrow. Kindest love to Dawes, Ethel, & the boys.

Your loving sister
Jennie.
PHOTOGRAPHER: N/A
CARD SIZE: N/A
WHERE PURCHASED: San Antonio, Texas
WHEN PURCHESED: March 31, 2006
---
RESEARCHED INFORMATION

Probably: NONE
Born:
Died:
Father:
Mother:
Married:
Children:
---
NOTES
---
SOURCES