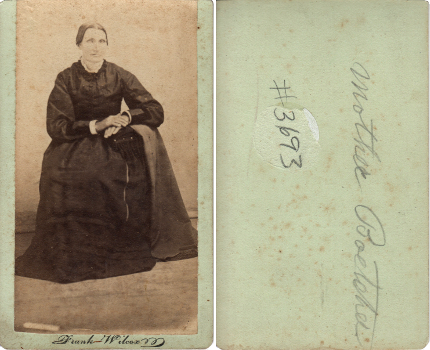 ---
STATUS: AVAILABLE - $10.00 + SHIPPING
---
---
PHOTOGRAPH INFORMATION
NAME(S): Mother Boetcher
PHOTOGRAPH: # 3693
OTHER INFO: None
PHOTOGRAPHER: Frank Wilcox (Frank was a photographer in Oconto, Wisconsin)
CARD SIZE: 6.3 cm x 10.2 cm
WHERE PURCHASED: Sturgeon Bay, Wisconsin
WHEN PURCHESED: September 1, 2016
---
RESEARCHED INFORMATION

Possibly: Mary
Born:
1819, Canada
Died:
March 26, 1905, Mussel Harbour Arm, Newfoundland, Canada
Father:
Mother:
Married:
Michel Boutcher
Children:
Mary
(Married Louis Pacain)
---
NOTES
Click
HERE
for another Boetcher photograph purchased with this one.
My reasoning for picking Mary Boutcher as "Mother Boetcher". First, as for the spelling census takers were horrible
spellers when it came to names and wrote what they thought it sounded like. Second, the type of photograph
places it as taken no later than possibly mid 1870's. All other female Boutchers I found were born 1840 or later
making them in their 30's when the photograph would have been taken and I believe the woman in the photograph
is older than her 30's. Third, although there is no location printed in the photograph the photographer Frank Wilcox
was a photographer located in Onconto, Wisconsin near where Mary was in the 1880 census when she and her
husband were visiting or living with their daughter Mary Pacain.
---
SOURCES
1880 Census Little River, Oconto, County, Wisconsin
Newfoundland Vital Records