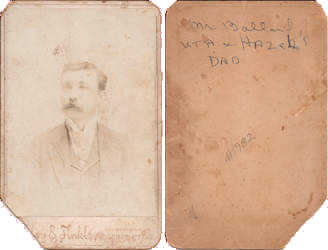 ---
STATUS: AVAILABLE - $10.00 + SHIPPING
---
---
PHOTOGRAPH INFORMATION
NAME(S): Mr. Ballard
PHOTOGRAPH: # 1982
OTHER INFO: Uta & Hazel's dad
PHOTOGRAPHER: ???ley & Finkle, Dennison, Texas
CARD SIZE: 10.75 cm x 16.5 cm
WHERE PURCHASED: Decatur, Texas
WHEN PURCHESED: December 2, 2011
---
RESEARCHED INFORMATION

Probably:
Charles W. Ballard
Born:
April 15, 1856, Texas
Died:
Bef 1910, Golden, Wood County, Texas
Married:
Edna Tessora Sutton, Abt 1898
Children:
Utah L. & Hazel
Mother:
Sarah R.
Siblings:
Adaline, Martha, Elizabeth, John L., & Amelia
---
NOTES
Probably the father of Utah L. and Hazel Ballard and husband of Tessora (Sutton) Ballard
as listed in 1910 Census for Wood County, Texas. Tessora his wife is listed as widowed
in the 1910 census for Wood county, Texas. She and her two daughters Utah L. (age 9)
and Hazel (age 8) are living with her mother Mary F. Sutton also widowed.


---
SOURCES
1860 Census Smith County, Texas
1870 Census Wood County, Texas
1880 Census Wood County, Texas
1900 Census Wood County, Texas
1910 Census Wood County, Texas