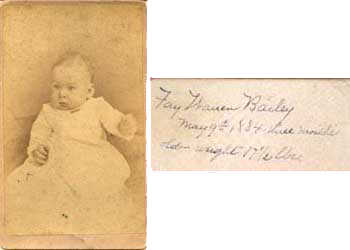 Click on photograph for larger downloadable scan
(Donation Info)
---
STATUS: REUNITED WITH FAMILY
---
---
PHOTOGRAPH INFORMATION
NAME(S): Fay Warren Bailey
PHOTOGRAPH: # 5
OTHER INFO: May 9th 1884, three months old, weight 17 1/2 lbs.
PHOTOGRAPHER: Collier, Rockland, Mass.
CARD SIZE: 6.25 cm x 10.25 cm
WHERE PURCHASED: St. Joseph, Illinois
WHEN PURCHESED: January 31, 2003
---
RESEARCHED INFORMATION

Identified:
Fay Warren Bailey
Born:
February 1884, Massachusetts
Died:
Father:
Mother:
Married:
Una Augusta Fitts, Pawtucket, Rhode Island
Children:
Fay Warren Jr.
---
NOTES
from Barry Ciccone:



Fay Warren married my grandfather's sister Una Augusta Fitts before the family came to Canada in 1911.
I don't think my grandfather ever saw her again. My grandfather's other sister, Ruth Imogene Fitts married
William Ashton Cockshutt of the Cockshutt farm machinery company and they kept in touch with Una however.
I have attached all I have on the Baileys and a copy of a letter sent to my aunt by Ashton telling about Una
and Fay Warren Bailey.


Click
HERE
for copy of letter mentioned
Click
HERE
for ancestry of Fay Warren Bailey
---
SOURCES
1900 Census Plymouth County, Massachusetts
1910 Census St. Louis, Missouri
1920 Census St. Louis, Missouri
1930 Census St. Louis, Missouri
RootsWeb.com