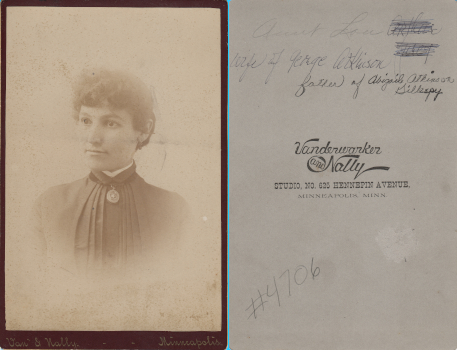 ---
STATUS: AVAILABLE - $10.00 + SHIPPING
---
---
PHOTOGRAPH INFORMATION
NAME(S): Lou Atkinson
PHOTOGRAPH: # 4706
OTHER INFO: Wife of George Atkinson father of Abigail Atkinson Gillespy
(There are two possibly surnames marked out after "Lou", possibly "Arthur" & "Juecy")
PHOTOGRAPHER: Vanderwarker & Nally, Minneapolis, Minnesota
CARD SIZE: 10.7 cm x 16.4 cm
WHERE PURCHASED: Terre Haute, Indiana
WHEN PURCHESED: August 16, 2019
---
RESEARCHED INFORMATION

Possibly: NO INFO (See Note Below)

Born:
Died:
Father:
Mother:
Married:
Children:
---
NOTES
I only find one George Atkinson married to a "Lou" or Lucinda in Minnesota and she was born in 1854 and
it appears they had no children. Unable to locate any "Abigail" as daughter of a George Atkinson or with a
mother with name similar to "Lou".
Also possible surnames oif "Arthur" & "Juecy" are dead ends.
The Abigail
Atkinson Gillespy refered to was probably the daughter of James Anson & Abbie S. Atkinson Gillespie and
Abbie was born about 1846 which would put her mother born around 1820's? Have not found her mother
but it would maker her way to old for the person in the photograph. Dute to the surnames that have been
marked out and my research I believe the person who wrote on the back was possibly elderly, (nothing
against elderly, I'm 69), anyway, was trying to remember who this was and I believe got it wrong. I do not
believe the above person was Lucinda wife of George Atkinson or mother of Abigail Atkinson Gillespy.
I believe the photograph was labeled wrong/
---
SOURCES
1885 Minneapolis, Hennepin County, Minnesota, Territorial and State Census
1900 Census Minneapolis Ward 5, Hennepin County, Minnesota
1905 Minneapolis, Hennepin County, Minnesota, Territorial and State Census
1910 Census Minneapolis Ward 5, Hennepin County, Minnesota
1920 Census Minneapolis Ward 5, Hennepin County, Minnesota
1930 Census Minneapolis, Hennepin County, Minnesota