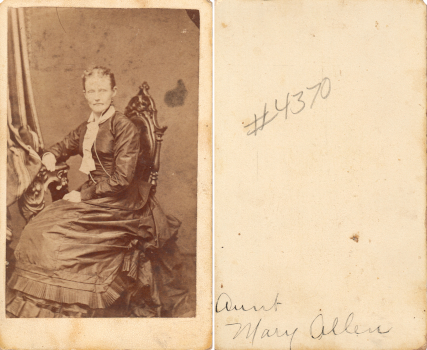 ---
STATUS: AVAILABLE - $10.00 + SHIPPING
---
---
PHOTOGRAPH INFORMATION
NAME(S): Mary Allen
PHOTOGRAPH: # 4370
OTHER INFO: Aunt
PHOTOGRAPHER: Unknown
CARD SIZE: 6.3 cm x 10.3 cm
WHERE PURCHASED: McAlester, Oklahoma
WHEN PURCHESED: September 13, 2018
---
RESEARCHED INFORMATION

Probably: NONE
Born:
Died:
Father:
Mother:
Married:
Children:
---
NOTE
: Purchased this photograph with several others from Ontario, Canada but
have been unable to pin down who she is. There is a slim possiblilty
that this could be
Mary Allen Lawrence
who was married to John Edward
Lounsbury if she went by her first and middle name. There is a family
connection with her to other photographs from Ontario, Canada that I
purchased.
---
SOURCES